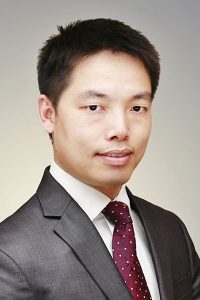 Shan Jiang is an assistant professor in the Department of Materials Science and Engineering. He was recently awarded a 3M Non-Tenured Faculty Award. There were 21 recipients out of more than 100 high-quality nominations from over 60 academic institutions across the United States. He was the only Iowa State University award recipient this year.
The award provides Professor Jiang with $45,000 of unrestricted funds over 3 years. The initial amount of the award is $15,000 for the first year. Professor Jiang will travel to 3M's corporate headquarters in June to present his research with the other national awardees.
The award will help accelerate his research activities in nanoparticle synthesis, self-assembly and coating material research. His project is titled New Dimensions of Colloids and Nanoparticles from Janus Particle Assembly to Smart Materials.
This is a competitive award that is given by 3M because of their commitment to STEM education. This award recognizes outstanding young faculty who excel in research, academic leadership, and experience. The award has been given to help young faculty achieve tenure while teaching and conducting research. The company's Research and Development Community, in partnership with 3M's Corporate Giving Program, administer the award. Recipients are nominated by 3M researchers.