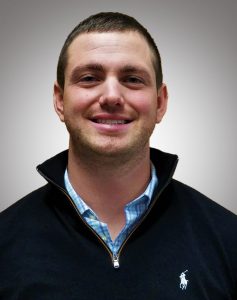 Brett Ramirez is no stranger to the Department of Agricultural and Biosystems Engineering. On January 1, 2018, Brett Ramirez joined the faculty in ABE as an assistant professor. He earned his doctorate one semester earlier at Iowa State University under the guidance of Dr. Steve Hoff. Ramirez has a research and extension appointment which allows him to continue building and sharing his expertise in livestock and poultry housing, ventilation, and environmental control.
Ramirez is an Illinois native, calling Crystal Lake, Illinois his hometown. He attended University of Illinois at Urbana-Champaign where he earned his bachelor's and master's degrees in agricultural and biological engineering.
Ramirez said his interest in agricultural and biosystems engineering came from the need to produce safe and secure food.
He said, "I enjoyed food and eating as a kid, and I knew I wanted to do something centered around food. I have always thought it was important to sustain life. My dad was an engineer, so I tried it out, and the 'engineering thing' came natural to me. When I was looking at majors as an undergraduate student at the University of Illinois, I checked out ag engineering and never looked back."
Ramirez's research and extension program focuses on developing sustainable livestock and poultry systems that are resource efficient and promote performance, well-being, and health. His specific research areas include housing, natural resource and energy efficiency, animal energetics, environmental control, and precision livestock farming. The goals of his program are to provide the science, solve problems impacting Iowa producers today, and develop new technology to meet the animal's needs both economically and sustainably.
One of Ramirez's recent projects is co-sponsored by Iowa Cage-Free (ICF) and the Center for Industrial Research and Service (CIRAS). Ramirez received this as his first funded project as a faculty member just 51 days into his career, an exceptionally fast rate. Iowa Cage-Free recently built a two story, cage-free housing facility featuring four total rooms with each room housing 135,000 laying hens. Ramirez will be instrumenting and monitoring air quality in the building, specifically assessing two different ventilation systems that have been implemented throughout. The goals of the project are to minimize operating costs associated with the ventilation system, improve layer performance, and reduce natural resource usage.
Ramirez said, "I look forward to the opportunity to continue to do research at a great institution. The people and the department kept me here. I am also happy to have the opportunity to keep providing good, sound science for Iowa producers and academia."