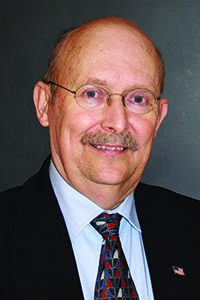 Construction engineering professor makes an impact on graduate experience at Iowa State University's Department of Civil, Construction and Environmental Engineering (ISU CCEE)
Engineering is in Doug Gransberg's genes. He is an engineer, his father was an engineer, his sons are engineers – even Gransberg's ancestors constructed bridges.
"I never thought of doing anything else," Gransberg, who is a professor in construction engineering, says.
This December, Gransberg retires from Iowa State after seven years of teaching and research.
"Upon Doug's arrival at ISU, he helped our faculty create an immediate and significant impact to the construction engineering graduate program," says Terry Wipf, the Don and Sharon Greenwood Endowed Department Chair in Civil, Construction and Environmental Engineering. "Within several years, the size of the construction engineering doctoral program doubled and has continued to grow. Doug's overall contributions are noteworthy, and we thank him for his leadership."
Gransberg first came to ISU in 2010. During his tenure, Gransberg has overseen the successful graduation of 11 doctoral candidates. From 2010 to 2015, he was the inaugural holder of the Greenwood Endowed Chair in Construction Engineering. Prior to his time at ISU, Gransberg was a faculty member at the University of Oklahoma and Texas Tech University.
Gransberg's research is the topic of dozens of peer-reviewed articles. The focus of his research centers on his interest areas, including asset management, alternative project delivery methods, heavy highway construction methods, and construction quality management. He has served on various professional organizations as well, including the Transportation Research Board (National Academy of Engineering) since 1996 and the American Society of Civil Engineers since 1974.
Following his retirement, Gransberg will continue to collaborate with construction and civil engineering faculty in the department. He will also be involved with the ownership of his two companies, Gransberg and Associates, Inc. and Active Continuing Education Systems, LLC.
"I'll miss teaching directly with students," Gransberg says.
The construction engineer has worked with both undergraduates and graduates during his time at ISU. The excitement and innovative nature of students has made teaching a joy.
"They don't have the baggage," he says. "They think they can do anything that they are smart enough to do."
Gransberg wants to thank the leadership of the department, especially ISU CCEE Chair Terry Wipf, and stresses what an exceptional experience it has been to be a part of the construction engineering program.
"It's been a great honor to be associated with the Iowa State Construction Engineering Program," he says. "It's definitely been a privilege and an honor to work here."