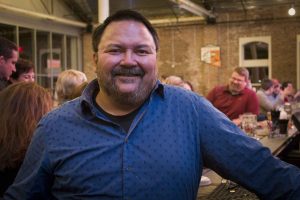 Pairing community experience with food truck fare, Nick Kuhn (B.S. CE'94) finds creative way to help those in need
The Hall
You can hear the rumble of hundreds of conversations long before you enter The Hall. That's what Nick Kuhn and his business associates are calling their newest beer hall and restaurant, located in The Foundry building of West Des Moines' Valley Junction District.
Kuhn is a 1994 graduate of Iowa State University's Civil, Construction and Environmental Engineering Department (ISU CCEE). The civil engineer is, in his own words, a "problem solver." For the first 21 years of his career, Kuhn solved engineering challenges as a municipal engineer and successful businessman.
But about three years ago, he branched out into a different field entirely. Kuhn opened his first restaurant, Urbandale's The Beerhouse. He followed that with a venture into a new metro trend … food trucks. Those two interests have intertwined at The Hall, where Kuhn and his associates are using local food trucks as satellite kitchens and creating community in the bargain.
When you walk in on a Friday night, you see hundreds of people mingling at long tables constructed two feet in width.
"You're already in each other's personal space," says Kuhn with a smile. "It's going to get really awkward if you don't start having a conversation."
That, of course, is a major concept behind The Hall.
"We have a community focus," he says. "One of our goals is to rebuild community—build it and rebuild it – and we do that through conversation."
The Kitchen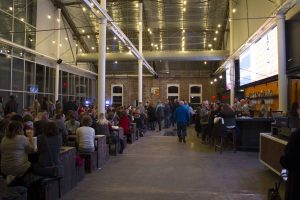 Rebuilding community doesn't stop in The Hall. Walk through the restaurant/bar area, and you enter a space that Kuhn calls The Kitchen.
A past president of Des Moines' Legion of Food (food truck association), Kuhn got his start providing food to the homeless with other food truck owners several years ago. It was the first non-profit with which Kuhn had worked.
"That's really when I became more in tune to the homeless population here in the metro," Kuhn says. "It was my experiences with the homeless and the food trucks and beer industry that we've now packaged up into one big model."
Major construction of The Kitchen is slated to begin in January 2018. The Kitchen will function to give at-risk youth ages 18 through 24 the chance to learn culinary skills from Des Moines' food truck chefs. It's part of a new non-profit that Kuhn and his wife founded this year called the Justice League of Food (a play on the Justice League of America, for comic buffs).
Kuhn explains that food trucks servicing The Hall become members of The Kitchen (Justice League of Food) and get to rent kitchen space at a competitively low rate. In return, food truck chefs will train apprentices in culinary skills, produce weekly hot meals in The Kitchen using apprentice staff, and pay the apprentices' wages to make meals for regional distribution to various senior centers and shelters. Kuhn has partnered with groups like Partnership for a Hunger Free Polk County in the hopes that more food can get to more people in need.
"The beer hall is really a platform to make all of this happen," he explains. "The heart of the whole place is The Kitchen."
Changing the game
Drive down Railroad Avenue in Valley Junction, and harbingers of the district's historic past grab your eye. The same can be said for The Hall at 111 South 11th Street. From the food to the brews to the camaraderie and philanthropic mission, very little about The Hall is ordinary.
In all, nine food trucks service The Hall on a calendar rotation. Kuhn's goal is to have your food and drinks out to you as quickly as it takes your friends to order. That means that, by the time the fourth person in a party is ordering, the first person should be getting her drink.
The Hall has accomplished fast service times through various methods. Waiters converse with visitors and use digital technology to send individual orders back to the kitchen or bar in real time. Diners can also order via kiosks or, new this month, via The Hall mobile app.
"We have changed the game of food trucks and beer halls through technology," Kuhn says. "We have changed the game of customer service in beer halls and brick and mortars. We've redefined the game."
Following through
"It's complicated and simple all at the same time."
That's the way Kuhn sums up the concepts of The Hall and The Kitchen. He admits that the three-year process from conception to execution has not been easy. He's had to bring his problem-solving skills to the table. For this ISU engineer, following through is familiar. He first picked up the habit in college.
"I learned to solve problems," he says. "I learned to think critically. And a college education, in general, is about following through. You've got to follow through if you're going to get a college degree. Part of me believes that the college experience – and Iowa State in particular – is about teaching people how to follow through."
In founding a new non-profit and business, Kuhn has forged new partnerships and built a new team. While looking to the future of food and philanthropy in the metro, he's reminded that relationships and experiences build on each other to create opportunity for change.
"I wouldn't be doing what I'm doing today had it not been for all of these crossroads, and it started with Iowa State University and getting a degree in engineering," he says.
---
Read more about The Hall and The Kitchen in the Des Moines Register article, "Iowa's never seen a food truck beer hall like this before." See the latest alumni news from Iowa State University's Civil, Construction and Environmental Engineering Department by following us on Facebook, Twitter and LinkedIn (Iowa State University Civil, Construction and Environmental Engineering and ISUConE).