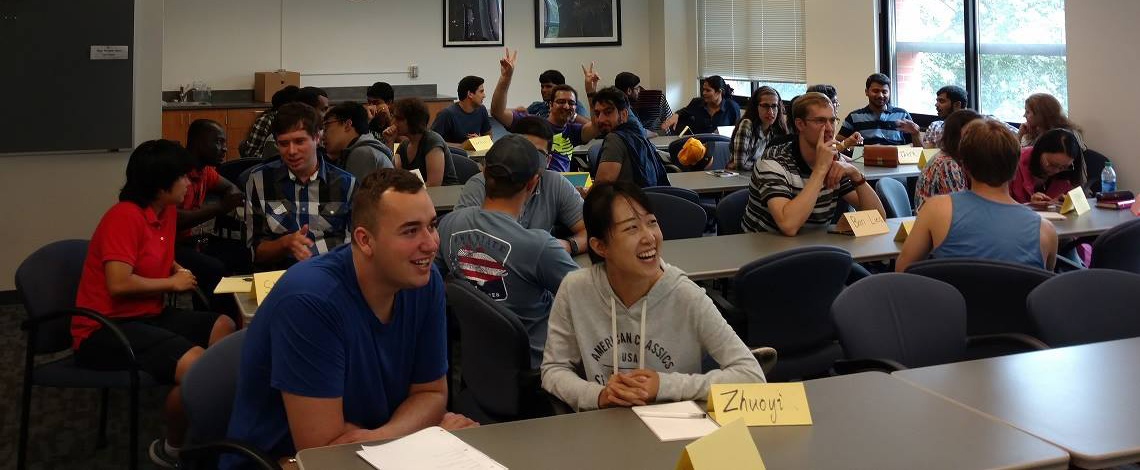 The transition to a new graduate program can be difficult. There's finding a place to live, learning your way around town, and meeting new people. On top of all of that, students still have to focus on their studies and research. Moving from another country can present even more challenges.
For incoming graduate students in the Department of Industrial and Manufacturing Systems Engineering, they have extra help on their side. Deb McDonough in student services, makes that transition process as easy as possible for incoming graduate students.
For Deb, that process starts months before students even arrive in Ames, keeping in constant communication throughout the process, and providing them with the information they need to get all of their documents in order. When students arrive on campus in August, IMSE Orientation Week shows them the ropes to ensure a smooth transition.
Orientation week covers everything from an introduction to the department, to essentials on their new home, and who to contact for a variety of situations.
"When I first got here, I had to follow the map on my cell phone so that I would not get lost," Zhuoyi Zhao, a PhD student from China, said. "Deb gave us university map with all the information we might need."
Zhao, who is studying operations research, found it essential to meet the faculty and learn what opportunities and activities are available for students.
"The IMSE department also arranged the health screening and ISSO check-in for us," Zhao said. "This is not common in other departments. I have seen my friends who just got here and did not know many people to ask for help. They had to figure all of these things out by themselves. How lucky we were!"
For Deb, her goal is to make students feel welcome and comfortable knowing that they have a resource in their corner. In creating the orientation week, Deb thought back to her days as a student to find out what incoming students were looking for.
"There hadn't been anything to welcome students and I thought about my days as a student and what kinds of things would be helpful for me to have known," McDonough said.
Deb has thought of everything, not only providing students with the resources they need to be successful in the classroom or lab, but also where to find events from the Student Activities Council, how to contact the police, how to take advantage of student counseling, and what to do for fun in Ames.
In June 2016, an apartment building near campus burned down and several IMSE students lost their belongings in the fire.
"I saw them in the hallway and asked if I could do anything to help," McDonough remembers. "They said, 'No we're okay, you told us all to get renters insurance so we are covered.' That was the point where I realized how important it is to make them feel at home."
Deb's main goal is to make students feel welcome and give them all of the resources they need to be successful.
"Deb was instrumental in my transition from Tarleton State University," Sharon Lau said. "She was the point of contact for graduate students and did a great job to keep everything in check."
Even before IMSE students arrive at Iowa State, they can be confident in knowing that Deb is there to make sure they have everything they need.
"Deb made my transition to ISU pretty smooth," Zhao said. "I knew the moment I stepped on a new country, there was someone really cares about me. I feel so grateful to have her."