Nine Cyclone Engineers received top alumni awards at the Iowa State University Alumni Association 2017 Honors and Awards Ceremony.
ANSON MARSTON MEDAL by the College of Engineering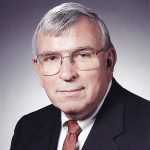 Dr. James L. Melsa, electrical engineering '60, Naperville, Ill.
James L. Melsa, dean emeritus of the ISU College of Engineering, is a distinguished scholar, an award-winning educator, and a visionary corporate leader. During Melsa's time as dean from 1995-2004, the College of Engineering reached new record enrollments and increases in research expenditures and endowed professorships. Melsa also oversaw significant growth in research and teaching infrastructure, including Hoover and Howe Halls and the CAVE virtual reality lab.
Before joining Iowa State, Melsa held three vice-president roles for 11 years at Tellabs Inc., a global supplier to the telecommunications industry. During his years as an academic at University of Arizona, Tucson, South Methodist University, and University of Notre Dame, Melsa earned recognition as one of the nation's outstanding electrical engineering professors in the area of control and estimation theory, speech encoding, and digital signal processing.
Melsa is a fellow of the Institute of Electrical and Electronic Engineers (IEEE) and the American Society for Engineering Education (ASEE). He also has an extensive record of leadership in national and international engineering groups, serving as president of ASEE, the IEEE Control Systems Society; Eta Kappa Nu, the national electrical and computer engineering honorary, and the American Association of Engineering Societies.
PROFESSIONAL ACHIEVEMENT CITATION IN ENGINEERING by the College of Engineering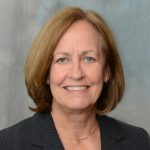 Sandra Q. Larson, biology '75, civil engineering '88, Ankeny, Iowa
Sandra Q. Larson recently retired from the Iowa Department of Transportation as the systems operations bureau director within the Highway Division, where she served since 1988. In her leadership role, Larson most recently oversaw the agency's traffic and safety office, maintenance office, and traffic operations office.
Larson has contributed extensive volunteer service to transportation research, serving leading national transportation organizations, including the American Association of State Highway and Transportation Officials (AASHTO) research committees and several National Research Council Transportation Research Board (TRB) National Cooperative Highway Research Program (NCHRP) panels. Larson was a member of more than 20 TRB panels, committees, or task forces, and she has served on National Research Council and U.S. DOT committees that addressed pavement technology and bridge performance.
In recognition of Larson's outstanding contributions, she was named in 2011 a national associate of the National Research Council. She also received the Roy W. Crum Distinguished Service Award from the Transportation Research Board (2016) and an Iowa State University Professional Progress in Engineering Award (1998).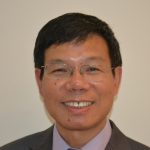 Dr. Huiquan Wu, Ph.D. chemical engineering '01, Potomac, Md.
Huiquan Wu is a recognized leader in pharmaceutical chemical engineering, contributing research expertise to major Food and Drug Administration (FDA) initiatives designed to improve pharmaceutical development, manufacturing, and quality assurance. In his 24 years of experience in a regulatory agency, industry, and academia, Wu has earned multiple excellence awards from the FDA, American Institute of Chemical Engineers (AIChE), and the Hubei Province Department of Education for significantly advancing the areas of pharmaceutical manufacturing science, process control and operations.
Wu currently holds a chair position with the FDA Advanced Manufacturing Community of Interest and is the director of the AlChe Pharmaceutical Discovery, Development and Manufacturing Forum. He is also a research liaison in the Office of Process Facilities for the FDA Center of Excellence for Manufacturing Science for Small-Molecules.
YOUNG ALUMNI AWARD by the College of Engineering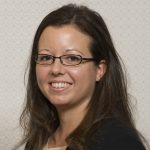 Meghan Watt, chemical engineering '02, Edina, Minn.
Meghan Watt is a growing leader in operations and environmental health and safety at The Dow Chemical Company. Watt joined Dow Chemical in 2002, starting her career in operations in the Chlor-Vinyl business in Freeport, Texas, and quickly moving into research engineering positions, including designing and overseeing construction of a new pilot plant for ethylene oxide production and later running the plant's R&D efforts. In 2010, Watt moved into a leadership position in operations in the Energy business at Dow Chemical's Deer Park, Texas site.  In 2013, Watt moved into a leadership position in environmental health and safety overseeing EH&S for nearly 700 employees, in eight production facilities, spread across 900 acres.
Following a nine-month international assignment at Dow's Shanghai Center of Excellence, Watt assumed an EH&S leadership role in Dow Chemical's Water and Process Solutions business, leading to a global continuous improvement leadership role for Dow Chemical's EH&S performance and innovation programs.
As a student, Watt was active in Women in Science and Engineering, Society of Women Engineers, American Institute of Chemical Engineers, and Alpha Omicron Pi. Watt is now a member of the advisory council for Iowa State's Department of Chemical and Biological Engineering, and she is captain of Dow's Iowa State recruiting team.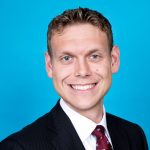 Michael Beckman, electrical engineering '07, MS '08, Allen, Texas
Since beginning his career at Texas Instruments in 2008, Mike Beckman has led and contributed to numerous company strategic initiatives, which have helped improve the quality, innovation and value of the semiconductor products that TI releases companywide. He leads many worldwide cross-functional R&D teams that develop, support and market analog semiconductors used in thousands of customers and products within personal electronics, automotive, industrial and communications markets.
Beckman was named vice president and general manager of Linear Power at TI in 2017 and has been general manager of the division since 2014. Prior to that he held various other roles at TI, including produce line manager and systems engineer. Along the way, he has served as a mentor for many new-to-the field engineers at TI.
As an Iowa State student, Beckman was a member of Tau Beta Pi, an engineering honor society, and he is an annual member of the ISU Alumni Association.
ALUMNI MEDAL by the ISU Alumni Association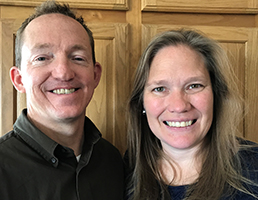 Jay G. Chapman, aerospace engineering '90, MS '93, and Karen E. Heldt Chapman, business management '92, Urbandale, Iowa
There are no two people who better personify Cyclone spirit than Jay and Karen Heldt Chapman. Whether it's their monetary and volunteer contributions to Iowa State Athletics, the ISU Foundation, the ISU Alumni Association, the College of Engineering, and the Department of Music or simply the pure joy, enthusiasm, and moral support they bring to all things Iowa State, Jay and Karen have distinguished themselves as one of Iowa State's most visible, active, and devoted couples.
Jay, who is employed as an ALM risk management manager at Wells Fargo, is a longtime board member and current president of the Cyclone Gridiron Club, as well as the past president of both the Alumni Band Society and the 1858 Fan Club (formerly Greater Des Moines Cyclone Club). He has also been active as an ISU Alumni Association Board associate.
Karen, who is currently serving as a Board associate for the ISU Alumni Association, has been active with Alumni Band; like her husband, she is also a past president of the 1858 Club. As a couple, the Chapmans are members of the College of Engineering's Forever True, for Iowa State campaign cabinet and have received such honors as the ISU Alumni Band Society's Noteworthy Service Award (2003), the ISU Foundation's Order of the Knoll Young Alumni Award (2008), and the C.Y. Stephens Bravo Award Young Patron of the Arts award (2011). They were both inducted in 2017 as honorary members of Kappa Kappa Psi Iota Omega Chapter. In 2011, Jay was presented with the Alumni Association's Alumni Service Award in celebration of the breadth and depth of his ISU volunteerism.
OUTSTANDING YOUNG ALUMNI AWARD by the ISU Alumni Association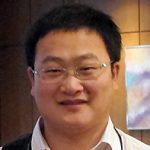 Hanjun Jiang, Ph.D. electrical engineering '05, Beijing, China
For the past 10 years, Hanjun Jiang has been a leading researcher and innovator in the area of integrated circuits and systems, particularly for medical and health care applications. It's a topic upon which he has published more than 60 peer-reviewed journal and conference papers and three book chapters. His work has also led to well over 20 issued patents. Jiang currently conducts his research as an associate professor at his undergraduate alma mater – Tsinghua University in Beijing, China – the nation's top engineering university.
Jiang's leadership of a key project in the China "863" program from 2008-2011 resulted in the development of the first single-chip wireless capsule endoscope for painless gastrointestinal examination. Today the technology, which is engineered to function continuously for an unprecedented 23 hours, is used by more than 100 hospitals in China. He has also pioneered technology in the field of wearable body sound monitoring – which is now undergoing clinical trials in 10 China hospitals after being transferred to Beijing E-Med Company.
A community leader in technology transfer who is active in many international capacities with the Institute of Electrical and Electronics Engineers (IEEE), Jiang has chaired the IEEE Solid States Circuits Society Beijing Chapter since 2015. He is the deputy director of Beijing Engineering Research Center on Wireless Medical and Healthcare, as well as the Shenzhen Engineering Laboratory on Integrated Circuits for Wireless Healthcare. He also served as the chief scientist of Changzhou Rishena, a start-up company dedicated for implantable neural stimulators.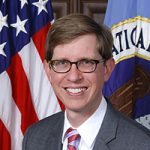 Josiah Dykstra, MS information assurance '04, Severn, Md.
Josiah Dykstra is a cybersecurity subject matter expert currently employed by the National Security Agency in Fort Meade, Md. – where he has worked since graduating with his master's degree from Iowa State in 2004. While attending ISU, Dykstra proudly participated in the National Science Foundation fellowship program CyberCorps, which was aimed at increasing the nation's cyber workforce. While many program participants have since moved on to employment in the private sector, Dykstra has remained dedicated to public service. And in 2013, he went on to earn a Ph.D. in computer science from the University of Maryland Baltimore County while working full-time in service to his country.
The author of the book Essential Cybersecurity Science, published in 2016, Dykstra has established himself as a world-class cybersecurity authority and a rising star in his field. He has been the recipient of the Presidential Early Career Award for Scientists and Engineers (2017) from President Barack Obama, the Hope College Young Alumni Award (2017), the Director of National Intelligence's Galileo Award (2013), and the U.S. Department of Defense's David O. Cooke Excellence in Public Administration Award (2013). In 2016, The Daily Record included him on its list of "Very Important Professionals (VIP)" Successful by 40.
JAMES A. HOPSON VOLUNTEER AWARD by the ISU Alumni Association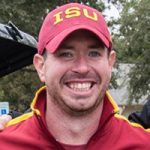 Kyle S. Flander, industrial technology '03, Shawnee, Kan.
Kansas City is home to one of the five largest Iowa State University alumni populations in the world, so volunteer support for engagement and outreach efforts in the region is of critical importance. Kyle Flander has consistently been just that person to provide leadership service and support to the cause – and in the process has utilized his talent and dedication to expand the size and scope of Iowa State's presence in Greater KC.
Flander was president of the Iowa State Alumni of Kansas City from 2012-2015 and remains active with the organization today as treasurer. During his tenure on the club's leadership board, he has founded "Cy's Day at the K;" organized overnight bus trips for ISU sporting events; created a sustainable presence for "Cy's Days of Service" volunteer initiatives in Kansas City; played host to gamewatches, Big 12 basketball tournament events, brewery tours, and family events; and developed personal relationships that have helped Kansas City Cyclones feel stronger connections to the Iowa State University family, while at the same time increasing school pride and spirit.
Nominators describe Flander as a "take-charge person" and a creative communicator. "Kyle assumed a leadership role here in KC because he truly cares about Iowa State University," one nominator wrote. "He constantly inspires and motivates others in our club." Flander is currently employed as a process improvement engineer for Entrematic/Amarr in Lawrence, Kan.
JOHN V. ATANASOFF DISCOVERY AWARD by the College of Liberal Arts and Sciences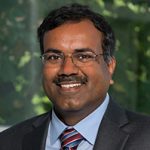 Srinivas Aluru, MS computer science '91, Ph.D. '94, Atlanta, Ga.
Srinivas Aluru is a professor in the College of Computing and co-executive director of the Institute for Data Engineering and Science at Georgia Institute of Technology. He co-leads the NSF South Big Data Regional Innovation Hub, which serves 16 southern states and Washington D.C. He conducts research in high performance computing, large-scale data analysis, bioinformatics and systems biology, combinatorial scientific computing, and applied algorithms.
Previously, Aluru served Iowa State University for 14 years as a faculty member in the Department of Electrical and Computer Engineering. He held the Mehl Endowed Professorship (2009-2013), the Richard Stanley Chair in Interdisciplinary Engineering (2006-2009), and chaired the interdepartmental graduate program in bioinformatics and computational biology (2005-2007). Aluru was a recipient of Iowa State's awards for Outstanding Achievement in Research, Mid-Career Achievement in Research, the Young Engineering Faculty Research Award, and the Warren B. Boast Undergraduate Teaching Award.