While working to win the Electri International/NECA Green Energy Challenge, students discover ways to give back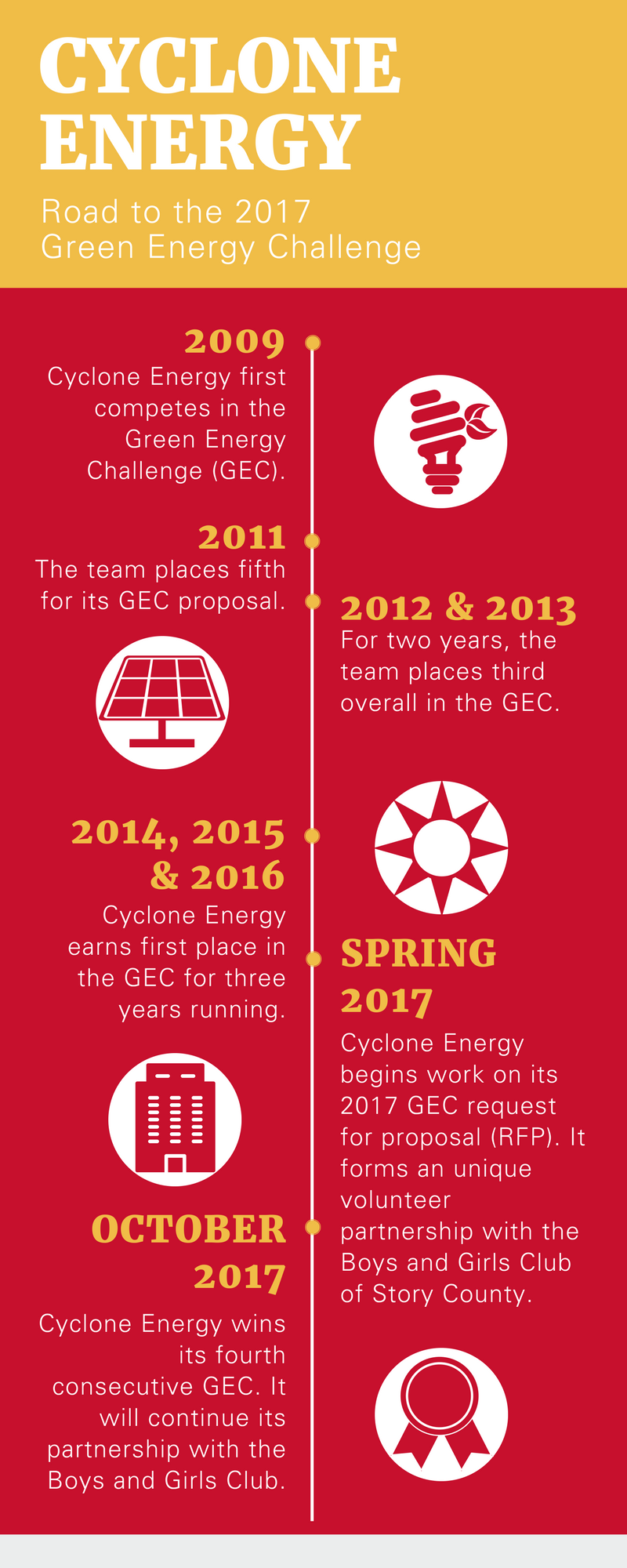 Can a competition be something more? Beth Hartmann's answer is "yes!"
"It's a learning curve," she says.
Hartmann is a faculty advisor for the Iowa State University Chapter of the National Electrical Contractors Association, or ISU NECA. This month, the group's Cyclone Energy team brought home its fourth consecutive first-place finish at the Electri International/NECA Green Energy Challenge – GEC for short.
When a team gets on a roll, it's easy to shrug off the work that went into the success. Hartmann and her team aren't forgetting the lessons that come with not getting first.
"The first two years we were in the top three, we ended up third," Hartmann, who is also a senior lecturer in construction engineering, said.
That was 2012 and 2013. Now, the nine-member team is a powerhouse at the GEC. They clock more than 1,400 hours of group work (not including individual practice) between the months of January and October. They drill and question each other, memorizing every line in preparation for presentations in front of peers and industry professionals.
"They grow a lot, and if you ask any one of the students, they will say that they grow a lot through the process," said Jenny Baker, a faculty advisor of Cyclone Energy and a senior lecturer of construction engineering. "I think they grow in technical knowledge and confidence, but also in teamwork."
The group, though, wants more. This year, the GEC made volunteering a major part of its request for proposal (RFP) guidelines. Along with evaluating mechanical and electrical systems for energy usage and creating cost and work schedules, all teams completed many hours of community service in relation to their local projects.
This is exactly what Cyclone Energy wanted. The Boys and Girls Club of Story County made the prime partner both for the RFP and volunteer guidelines.
"We've been looking for a community service opportunity where we could build a partnership with somebody. Now, we have it with the Boys and Girls Club," Hartmann said.
Throughout the spring and summer, the team spent time at the Boys and Girls Club. They worked to improve outside landscaping, and they hosted career and STEM exploration workshops.
Of course, there was fun involved. Marcelious Wyatt took home the title of Best Presenter at the 2017 GEC. If you ask him what one of the most fun parts of the competition was, he'll tell you it was spending time with the kids at the club.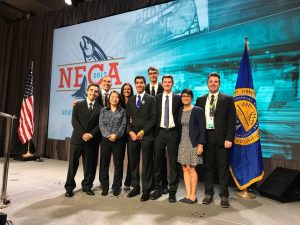 "Just being there–seeing how happy they get when we are there to play with them and spend time with them–it was really awesome and brought the whole team together," he said.
The team will continue its partnership with the club and is planning volunteer activities in the near future. So, can a competition be something more?
"Seeing the little kids' faces light up, but also seeing our students' faces light up when they were interacting was amazing and fantastic," Hartmann said. " … It took this competition to lead us to that."
---
Hartmann is currently accepting applications for the 2018 Cyclone Energy team. Applications are due to bethlin@iastate.edu by Monday, Oct. 30, at 2 p.m. If you are interested in student success, make sure to follow ISU's Department of Civil, Construction and Environmental Engineering on Facebook, Twitter and LinkedIn (Iowa State University Civil, Construction and Environmental Engineering and ISUConE).