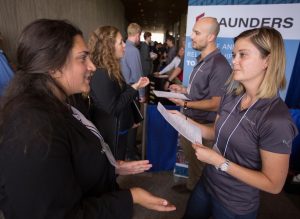 Last week, thousands of students made their way to Hilton Coliseum and the Scheman Building for the Fall Engineering Career Fair. Engineering students had the chance to network, seek internships and co-ops and learn about full-time employment opportunities. In total, 6,664 students attended the fair, 5,887 of which were engineering students.
Close to 450 companies set up booths to talk to students and prospective employees. Companies such as Carl A. Nelson & Co. from Burlington, Iowa, came in search of a wide array of positions, primarily construction or civil engineers. "The reason we continue to attend this career fair year after year is that Iowa State produces quality engineers," says Jordan Hutcheson, employee of Carl A. Nelson & Co.
Maaz Nadeem, a junior in civil engineering, came to the fair to look for a summer internship or co-op. "I learned a lot about different companies, how they work and what they offer," says Nadeem. "I also learned that these companies really care and have actual relationships with their clients."
On the three days following the fair, these companies conducted 2621 interviews with Iowa State students.