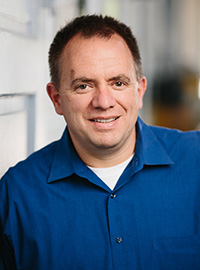 Frank Peters, associate professor of industrial engineering received three awards in the past year, earning recognition at a department level, industry level, and throughout the state of Iowa. The trio of awards are well-deserved recognition for Peters who has advanced the department and made a great impact on the students.
At the department level, Peters won the Don Grant Faculty Award for Excellence in Undergraduate Education. This distinction, named for former IMSE adviser and instructor Don Grant, honors the faculty member who is recognized by the students as having a high impact on undergraduate education in the IMSE department. Peters first won the award in its inaugural year in 2009, and again in 2013.
At an industry level, Peters won the Institute of Industrial & Systems Engineers Lean Division Teaching Award along with senior lecturer, Leslie Potter. The Lean Teaching Award recognizes a course that advances the knowledge and practice of lean concepts, which is the idea to create a production system with less waste. The course that Peters and Potter created, I E 222, Design & Analysis Methods for System Improvements, focuses on the study of lean system improvement methods and strategies. Peters and Potter were honored at the IISE Conference in Pittsburgh, in May.
Peters also won the Iowa Board of Regents Award for Faculty Excellence in September, which recognizes faculty members who are outstanding university citizens and have rendered significant service to the University. Peters has been at Iowa State for 21 years, impacting students and teaching manufacturing system and process improvements.