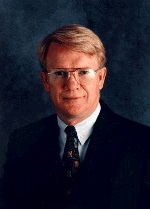 Iowa State University Department of Electrical and Computer Engineering (ECpE) alumnus Ed McCracken is featured in the "Faces of Iowa State" portraits painted by artist Rose Frantzen at Iowa State University Brunnier Art Museum. The exhibit opened Aug. 21 and will remain a permanent collection at the Brunnier Art Museum.
McCracken said he enjoyed working with the artist and was happy to be a part of an exhibit that highlights the place where he laid the foundation for his work in high technology.
"It's quite an honor to be included with these other famous Iowans," McCracken said. "I spent most of my career in Silicon Valley in California, but at heart I'm very much an Iowan."
McCracken holds a Bachelor of Science in electrical engineering (1966) from Iowa State and a Masters of Business Administration from Stanford University. He is a retired CEO of Silicon Graphics, Inc., the company known for launching the world of "virtual reality." His leadership at Silicon Graphics, Inc., spurred the development of computers specifically designed for the creation and manipulation of 3-D images, which were used extensively in the movie and television industry, including "Forrest Gump" and "Jurassic Park." In 1995, McCracken was named Executive of the Year by R&D magazine and was presented the National Technology Medal award by President Bill Clinton.
McCracken and his wife, Ana, who holds a B.S. in fashion merchandising from Iowa State, are ECpE supporters and provide scholarships each year. McCracken received the Professional Achievement Citation in Engineering award from the Iowa State University College of Engineering in 1992 and is a recipient of the Distinguished Alumni Award.
The artist of "Faces of Iowa State," Frantzen, said her painting session with McCracken was an unforgettable experience.
"I can hardly begin to relay all the directions and arcs our conversation took us," Frantzen said. "It was a blow-your-hat-off kind of night. He struck me as insightful, direct, wise and generous."
Frantzen is a native of Maquoketa, Iowa, where she is known for a series of painted portraits of local residents. Her works became a display at the National Portrait Gallery at the Smithsonian in Washington, D.C. In 2016 she created 19 similarly styled portraits of Iowa State faculty and staff during the Iowa State Fair, beginning the project called Faces of Iowa State. Later, 13 more portraits were created and added to the series. They are displayed with the recent additions of Ed McCracken and others at the Brunnier Art Museum.
For information on how to visit the exhibit, visit the Brunnier Art Museum website.
Below is the portrait of McCracken.