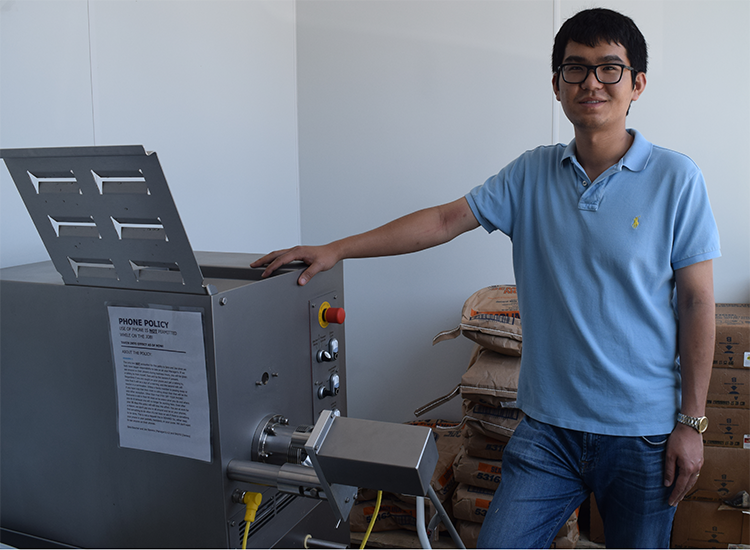 One Iowa State alum is taking the skills he learned in the mechanical engineering curriculum and applying them to his restaurant.
Last month, Lu Li and his wife Shuyu Wang opened Grandpa Noodle Gallery, 926 S. 16th St., on Ames' east side. Li first came to Ames in 2008 to study at Iowa State and said his decision to attend ISU was two-fold.
"Because I grew up in a very big city, I wanted to try small-town living," said Li. "On the other hand I heard that Iowa State University has a really good engineering program. I'm into engineering because I like machines and all of that stuff."
He initially planned to study electrical engineering but switched to mechanical because he felt machines were his true passion.
"I love all the machines. I liked tractors, cars, airplanes, and trains when I was a kid so it was always a dream I had," he said.
Li finished his BS in mechanical engineering in 2015. Since first coming to the United States, Li and Wang have had the opportunity to travel all around the country. Li said that the people in Iowa were a large part of the reason why he and his wife chose to stay in Ames and open a restaurant.
"The people that I've met here in Ames are the nicest people I've ever met in the United States," he said. "Ames people are very open to other cultures. When we opened the restaurant a lot of local Ames people were really excited and wanted to come here and try it. They're open to different food. The people in Ames are the key reason why we wanted to stay here."
Li came from the city of Hefei in east central China. His hometown has a population of roughly seven-and-a-half million which is more than twice the size of the entire state of Iowa. In addition to the people, Li said that he likes the cooler climate of the Midwest, compared to warmer regions in the country.
"I like when you can sit at home and can see snow outside and you have a fireplace in front of you," said Li. "That's my kind of dream life."
Moving to the United States was another dream that Li had growing up and now with their restaurant, he and Wang are making that dream a reality. Wang studied finance at Iowa State and handles many of those duties with the restaurant, but Li actually applies his ME skills to the management and other responsibilities he undertakes.
"I learned a lot from the Department of Mechanical Engineering at Iowa State. First off, and I think the most important thing for a restaurant, is team-working skills," said Li. "Mechanical engineering is about trying to solve a problem using a team. That's kind of a similar concept when operating a restaurant. After opening the restaurant we encountered all kinds of problems, we have to try to figure out how to solve those problems. So me, and my employees and my wife, we all work as a partnership. and I try to apply those team-working skills from mechanical engineering."
Li added that having a knowledge of mechanical engineering is helpful so he can perform repairs when his kitchen machines and equipment have issues. One such machine creates fresh, homemade noodles, which Li hopes will be one of the restaurant's hallmarks.
"Our noodles are different from other noodle restaurants in central Iowa. We make all of our noodles from scratch," he said. "Fresh noodles sound really complicated but it's actually really easy."
Li explained that the process involves mixing semolina (which is similar to flour) with water to create a dough. The dough is then put into a machine which pushes the noodles out through a die. He said the most complicated part of the process is knowing how much water to add, which can be affected by humidity levels and other local conditions. In order to provide the most flavorful noodles possible, Li's staff make up a fresh batch at the start of each day.
In addition to fresh noodles, Li also aims to provide the freshest meats and vegetables available.
"We try to use local ingredients as much as we can. We use Iowa-grown pork and beef. We also try to use fresh vegetables from the surrounding area," he said.
One specialty item on the menu not served everyday is Pepsi chicken which combines the American soda with traditionally Chinese cuisine.
"This is a very unique dish from China. People want to use Pepsi as an ingredient to get the sweetness," he said.
Li added that while Pepsi is an American company, "it's the kind of product you can find all around the world" within "many different cultures." The restaurant was also recently granted its alcohol license and will serve beers from the United States, China, and Japan.
In addition to the menu items, customers can also build their own bowl from more than a dozen meat, vegetable, and sauce options. Dishes range from about $10 to $12.
Read more from the Des Moines Register and the Ames Tribune.
For more information, check out Grandpa Noodle Gallery's website and Facebook.