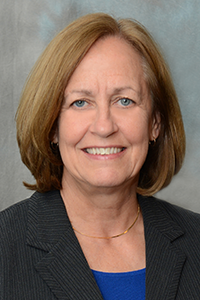 While summing up duties as systems operations bureau director for the State of Iowa, alum keeps university collaboration top priority
This month, Sandra Larson (B.S. CE'88) will retire from her position as the Iowa Department of Transportation's (DOT) Systems Operations Bureau Director. She has spent 29 years managing the smooth facilitation of day-to-day traffic on state roads. She has also fostered strong partnerships between the Iowa DOT and Iowa State University.
Larson doesn't hesitate when asked whether it is difficult to leave the DOT.
"Of course it is," she said. "I found a home in civil engineering, and that home has been here."
Larson began working for the Iowa DOT in 1988. She has taken on a variety of responsibilities, including roles as bridge designer, resident construction engineer for Ames and three different bureau director positions. Throughout her career, the team environment at the DOT has been a constant.
"It was here long before I was here," she said of the collaborative attitude. "I have enjoyed that atmosphere, and it will be here long after I leave."
Larson has kept ties with Iowa State University (ISU) as well. She first graduated from ISU in 1975 with a degree in biology. She returned to the university later and, in 1988, earned a degree in civil engineering. She has collaborated on research with numerous ISU Civil, Construction and Environmental Engineering (ISU CCEE) faculty members and Institute for Transportation research teams. She plans to continue her collaborative partnership with the university, including maintaining her seat on the ISU Civil Engineering External Advisory Council.
The list of accomplishments pinned to Larson's work is long. The Transportation Research Board (TRB) recently recognized Larson with the Roy W. Crum Distinguished Service Award for "outstanding research in the field of transportation engineering." She has held leadership positions on committees for TRB and AASHTO (the American Association of State Highway and Transportation Officials) and has served on countless panels and task forces. Just recently, Larson and ISU researchers embarked on the second phase of the Strategic Highway Research Program. In this part of the program, researchers will tackle the challenge of forming traffic models that can accurately predict the success of various safety measures.
Drawing from her own experience, Larson encourages engineers—especially young engineers—to explore the vast opportunities that their field offers.
"If you enjoy a challenge and the problem solving that comes with that, there's so many different types of engineering," she said. "It seems like there's a type of engineering for everyone, if you like math and science."
Larson's last day at the Iowa DOT is June 29.
---
ISU CCEE alumni do outstanding work. If you are interested in more alumni stories like this one, make sure to follow our department on Facebook, Twitter and LinkedIn (Iowa State University Civil, Construction and Environmental Engineering and ISUConE).