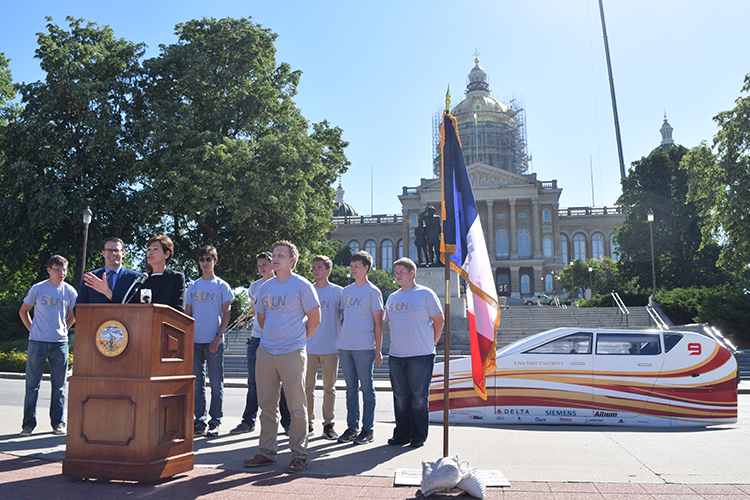 PrISUm Solar Car Team's newest model Penumbra took to the streets of Iowa's capital city Thursday for an event with the state's highest-ranking elected official.
Governor Kim Reynolds along with Lieutenant Governor Adam Gregg addressed members of the team, local media, and the public during Thursday morning's event on the west side of the state capitol building. The two elected officials even took a ride in the new vehicle, which differed from past models in that it can seat three passengers in addition to the driver. Gov. Reynolds said Penumbra is markedly different from last year's car.
"It's so exciting. I was able to be with them in Glidden last year with the PrISUm team and just the changes that have been made from the car that they built last year to this year is unbelievable. The fact that only one person could ride in it last year, four can ride in it this year," said Reynolds. "The fact that you can touch the panels. Last year they were really cautious about any of the kids even getting close to that because they broke and cracked. They were paper thin. So as they continue to look for new innovation and ways to enhance the car, I can't believe what they've done in a year."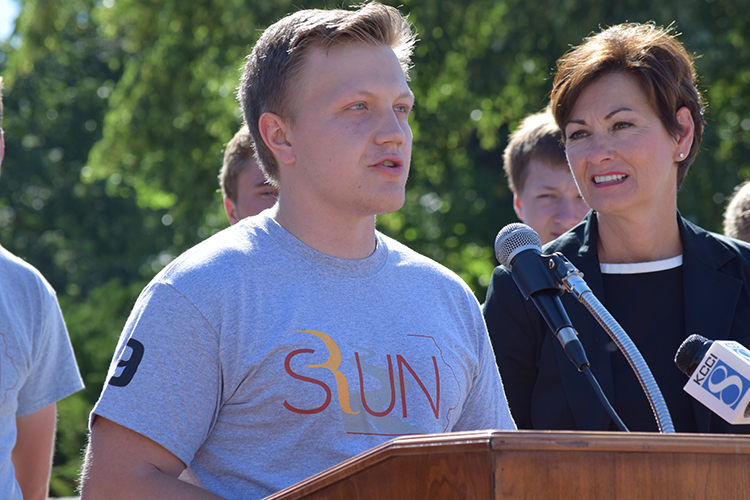 Dylan Neal, president of PrISUm Solar Car Team, acknowledged the support Reynolds has shown even before she took over as governor last month.
"Governor Kim Reynolds, we have known for quite some time. Everything we do with STEM [Science Technology Engineering and Mathematics] education and everything that we really stand for as a program align with her goals and her goals for the state. So it was a great opportunity to get out here and actually show her the vehicle," said Neal. "When you talk about it and you show a picture, you can only see so much. So to actually bring this and demonstrate what innovation, and what we've been working on, it's a very proud moment for our program.
Just before the governor took the stage at Thursday's event, a bus full of girls pulled up alongside Penumbra to drop off participants in a Science Center summer camp who had planned to partake in other activities around the capitol campus. The governor wrangled the girls to take a brief break from the pre-planned activities to check out the car. Some of the campers got the chance to sit in the car before the whole group – including the campers, PrISUm members, and the elected officials – posed for photos. Gov. Reynolds said part of the reason she supports PrISUm is because of the STEM opportunities it offers to young people.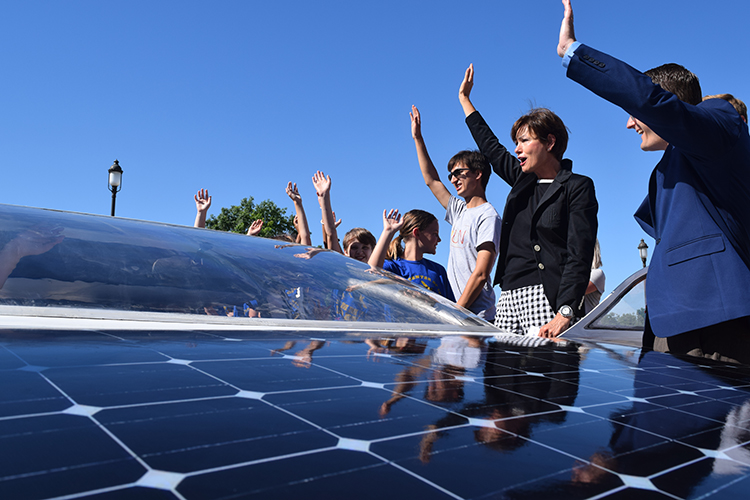 "I think it was demonstrated today when that group of young girls that are attending a science camp at the Science Center got to see the car and talk to the young students that have really built it and developed it. They told them to dream big and think big and not be afraid of failure and look at what you accomplish. You could see the excitement and the interest they had and that's how we start to drive that passion and we need to do it sooner rather than later," Reynolds said.
The stop in Des Moines was part of a 99-county tour the team is taking across the state called Sun Run 99. The governor said that outreach events like this are not only important for teaching Iowans about Penumbra and PrISUm but it can also serve as a way to encourage and inspire young people to pursue studies and careers in the STEM field.
"I appreciate the fact that they're traveling to all 99 counties, reaching out to kids, and really helping promote science technology engineering and math and that's something I'm passionate about because those are the jobs of the future, they pay better, and that's how we're going to remain innovative and competitive as a state most importantly but as a country as well. Kudos to these kids for really having a passion and making a difference and really working to inspire the next generation of innovators."
Click here for more photos and here for a video from the event.
Also check out coverage of the event from WHO-TV.