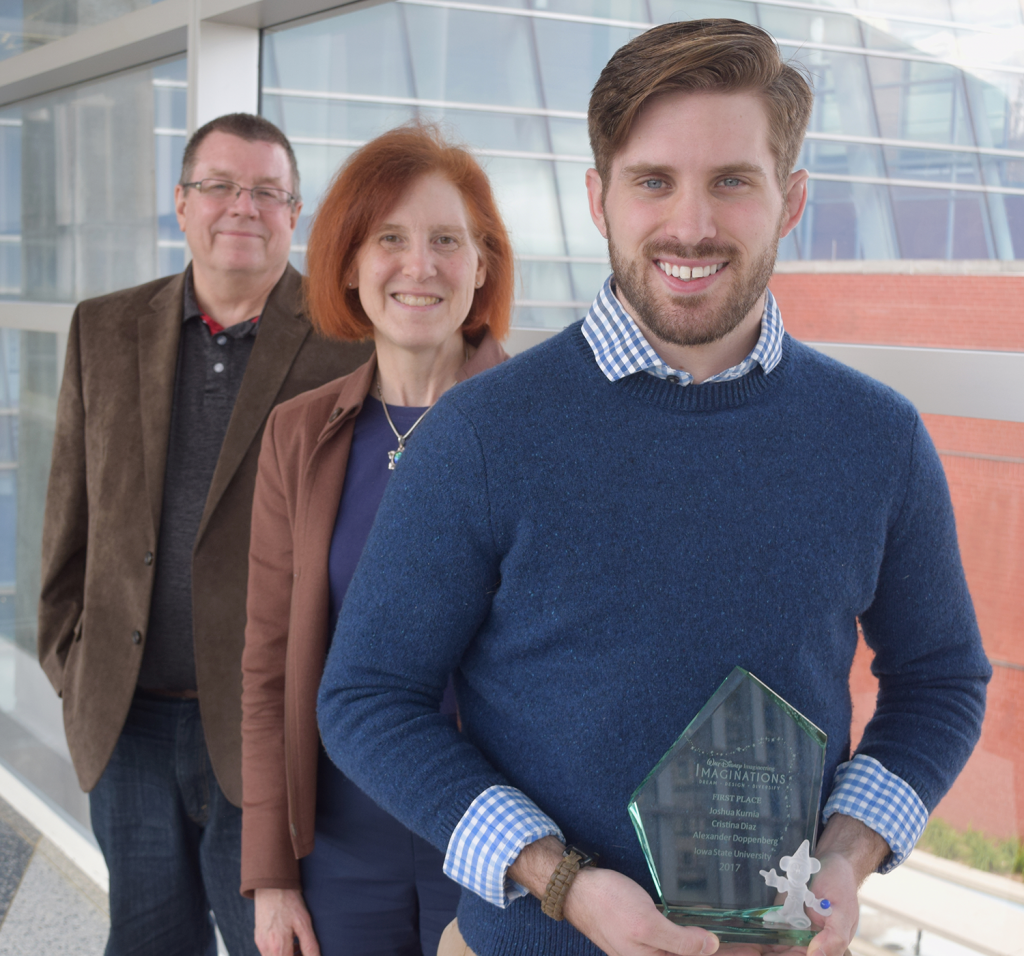 Alexander Doppenberg, a senior studying mechanical engineering, was part of Iowa State's winning team at the 26th Walt Disney Imagineering Imaginations Design Competition in California earlier this year. Between his busy semester and his action-packed summer the Spencer, Iowa-native was able to talk with us about his summer internship, the contest, and his studies.
*Some quotes have been lightly edited for length and clarity*
Tell me a bit about your internship with Disney this summer and what you will be doing.
My title is intern-mechanical/special effects systems at Walt Disney Imagineering in Orlando. What I'll be doing is working on a few scopes for a new attraction that has yet to be released to public. A scope is a specific effect that happens in an attraction that enhances the show.
How do you think your ME studies have prepared you for this?
Although Iowa State is not typically known for its role in the entertainment business I believe that my courses have enhanced my problem-solving abilities and enabled me to approach new problems and solve them. The classes that really expose students to the type of work that I will be doing during my internship are the engineering design and capstone classes. On top of the course load I do think it is important to seek out classes outside the college of engineering to learn how work with people outside the science and technology field.
How (if at all) do you think the Walt Disney Imagineering Imaginations Design Competition prepared you for what you'll be doing with your internship?
The competition really exposes the cooperation needed between different disciplines that is needed to create the success in the entertainment industry. It also allows us to get a little more insight on the type of work that goes on in the company as well as how they operate.
When did you become interested in engineering?
Both my dad and step dad are diesel mechanics so I've always grew up around mechanics. They were both do it yourselfers so I had the exposure at a young age of problem solving in mechanical systems which is where my interest festered from.
Why did you choose to attend Iowa State?
It was really a simple decision for me. I wanted to go to school for mechanical engineering that was affordable. Being from Iowa, Iowa State was the clear choice.
Why did you choose to study mechanical engineering?
Getting to solve mechanical problems at a young age I knew I wanted to go to school to be an engineer, but I wasn't sure at the time what exactly I wanted to do with it. When I was a freshman in college, the Disney College Program recruiters came to Iowa State and shared about the program and some of the philosophies of the company. They said that they believed in the power of storytelling, and that stories create happiness which can change the world. Pushing technologies to make one of kind creations that inspire a generation has been a trademark of Disney's, and I want to be a part of that.
Is there anything else you want to add?
Any success I have obtained through my life is through a lot of trial and error and through the support of many. I'd like to share two quotes that I think have really keep things in perspective.
When asked about the creation of the light bulb and all the failures he sustained in his trials Thomas Edison simply said, "I have not failed. I've just found 10,000 ways that won't work."
And also a quote by Walt E. Disney himself.
"All of our dreams can come true as long as we have the courage to pursue them."