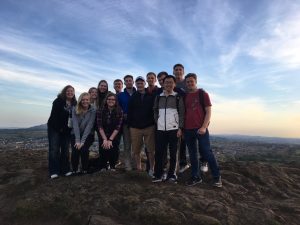 Transportation engineering course caps off with trips to Scotland, London
Young engineers got a glimpse of medieval and modern engineering practices last month during a nearly two-week study abroad experience in Great Britain.
The group of 25 civil and construction engineering students from Iowa State University (ISU) toured sites in Scotland and England for the course "Great Britain: Global Perspectives in Transportation (Civil Engineering 395X)." They explored the defensive structures of medieval castles, checked out canal systems on various European riverways, and even toured the traffic operations center for one of the busiest cities in the world, London.
"[Students] start realizing that there's fundamental knowledge, but there's also fine adjustments that occur through specifications in different countries," explained Chris Williams, a professor of geotechnical/materials engineering in the civil, construction and environmental engineering (CCEE) department and a veteran leader of the study abroad opportunity. "Learning the fundamentals is important, and if you understand the fundamentals you can adjust to understand those specifications."
"This trip opened my eyes as to just how different the world is and how every country has [its] own idea of what's most important in a structure and what's the best way to improve for the future," said Heather Jenkins.
Jenkins is a junior in construction engineering. This year, the faculty members leading the trip decided to make a change from previous trips. Instead of lecturing while they were abroad, the professors jump-started the course with lectures during the last half of the spring semester. The change was a hit.
"Not only did I get to visit amazing places, but I also made incredible friends that will, no doubt, be a part of my life for a long time," Jenkins said. "I also really enjoyed getting to go out and see all of the attractions as opposed to sitting in a lecture and simply learning about them off of a PowerPoint. This trip was definitely a once in a lifetime opportunity, and I'm incredibly grateful for it."
ISU CCEE Assistant Professor Jing Dong attended a Rome study abroad experience last year. This year, the transportation engineering faculty member led the London portion of the trip.
"In large classes, it's really hard to connect with students," she said. "On a trip like this, you have to show up at the same time. You have to travel together. You have to make sure everyone gets onto the busy train. The students get to know the professors more personally. They will talk about their personal career goals or what they want to do."
"Some want to be a tour guide after they go on a trip like this," she added with a smile.
In addition to Williams and Dong, the study abroad faculty team included ISU CCEE faculty members Vern Schaefer, Shauna Hallmark, Anuj Sharma and Keith Knapp. These faculty members are also researchers at ISU's Institute for Transportation (InTrans). InTran Director Shauna Hallmark and InTrans Program Coordinator Judy Thomas organized the study abroad experience.
---
Want to keep up with student adventure at ISU CCEE? Follow us on Facebook, Twitter and LinkedIn (Iowa State University Civil, Construction and Environmental Engineering and ISUConE).