With a scholarship opportunity, Yemeni doctoral researcher Sahar Da'Er pursues education to combat humanitarian disaster
After waking up in her home in Sana'a, Yemen, Sahar Da'Er would turn on the faucet. She couldn't rely on anything coming out of the pipe, though.
"We'd wake up in the morning and, sometimes, you'd open the tap and you wouldn't get water," she related. "We had to wait for water tanks to come and fill up our tank."
Da'Er is a first-year doctoral student at Iowa State University (ISU). She was awarded an interdisciplinary scholarship from ISU's Graduate College and the civil, construction and environmental engineering (CCEE) department to pursue research of sustainable wastewater treatment. Along with Kaoru Ikuma, an environmental engineering researcher and assistant professor in the CCEE department, Da'Er will seek solutions to water crises like the one that has rocked her homeland.
Sana'a, Yemen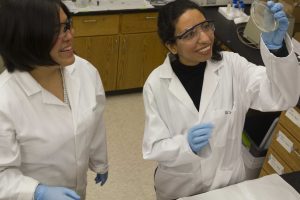 When you talk to Da'Er, she is so serious as she relates her experience that you cannot help but feel empathy. She once spent nearly four years working for the non-profit Social Fund for Development – Yemen. There, she monitored the effects of various water harvesting projects during a steadily growing humanitarian crisis.
"You see children dying," she said. "They are basically dying from waterborne diseases."
Da'Er knew she could make the most impact in Sana'a if she were a researcher and a professor. She decided on ISU after happening on a news story about Ikuma's work.
"What really attracted me the most is what she said about the earthquake in Japan and how they didn't have water," Da'Er said. "That hit home for me. That sounded like me."
Wastewater treatment
The pair research the use of algae as a cost-effective solution for wastewater treatment.
"We would use a biofilm system based on algae for sustainable wastewater treatment," Ikuma explained. "The idea would be to use algae, to allow them to photosynthesize and release oxygen. Then the other bacterial cells in the wastewater would do the rest of the treatment."
Importance of interdisciplinary research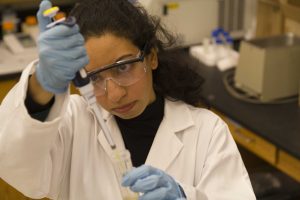 Both environmental engineering and environmental science researchers will work with Ikuma and Da'Er in the coming months.
"This kind of fellowship really allows students to go above and beyond the typical research that's already being done," Ikuma said. "I think it allows them to be a little bit more creative."
"The science and the process are both very important," Da'Er added, comparing engineering to a process. "The science is needed to understand the process. And the process needs the science to function."
With her experience and drive, Ikuma has found a dedicated student in Da'Er.
"She strongly recognizes the need for water—safe water—and wants to go above and beyond in her education and research to better understand it and ultimately become a leader in the field," Ikuma said.
---
If you're interested in learning about the exciting opportunities open to graduate and undergraduate students at ISU CCEE, follow us on Facebook, Twitter and LinkedIn (Iowa State University Civil, Construction and Environmental Engineering and ISUConE).