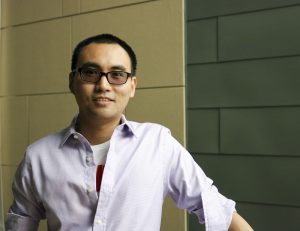 Each year, doctoral candidates in electrical and computer engineering from around the world compete in the Test Technology Technical Council E. J. McCluskey Doctoral Thesis Award Contest. The award serves to promote impactful doctoral student work and provides students with the exposure to the community and prospective employers.
Iowa State University's doctoral candidate in electrical and computer engineering, Yuming Zhuang, competed in the semi-final Institute of Electrical and Electronic Engineering (IEEE) VLSI Test Symposium (VST), the first round of competition in April. Zhuang's presentation qualified him for the International Test Conference (ITC), the final round of the contest, which will take place in Fort Worth, Texas, Oct. 31 through Nov. 2.
"My research focus is being able to accurately and cost effectively test the continually higher performance Analog-to-Digital Converters (ADCs). Our goal is to relax the requirements in the industry and in the IEEE standards," Zhuang said. "Currently, we have a lot of stringent requirements that require high precision test instruments. This can take up a lot of time and money, so we are trying to design alternative strategies to reduce the test cost and time, while maintaining the test efficiency."
Zhuang faces several challenges, such as non-coherent sampling, generating the ultra-pure sinusoidal signal, relaxing the precise control over amplitude and frequency of the input stimulus and linearity performance of the high precision ADCs.
Zhuang, who has been working on this research since he began his doctoral pursuit, became interested in electronics at a young age. Though not yet familiar with the technical side of electronics as a child, he gradually grew interested and wanted to know how to design instruments and make them work.
"My adviser told me that in order to fully understand the procedure of integrated circuits (ICs), you need to know not only the design but also the test side, so you can have a thorough understanding overall," Zhuang said.
Iowa State Electrical and Computer Engineering Professor Degang Chen is Zhuang's research adviser and is much more of an expert in this field, according to Zhuang. This is the first time this research group has won the first round of the McCluskey Doctoral Thesis Award Contest, qualifying them for the finals.
"I am proud to have been the first one to go this far. It means a great deal to me and a reward for my own research work and my adviser," Zhuang said. "It also helps Iowa State make its name in the industry and academia, which means a lot for the whole research group and the university."
The contest is made up of four different semi-finals (U.S., Asia, Europe and Latin America). At each semi-final, a jury composed of industrial experts will determine four winners, and those chosen will compete against each other in the finals.
"All those selected are all strong candidates," Chen said. "It's a pretty intensive competition, and to be selected is a good reflection on the quality of his [Zhuang's] production."
Zhuang is still finalizing his doctorate and says there is still work left to do. He and Chen are preparing some new research ideas to pursue and hope to see results.
"If we were to win, it will push us to higher standards. I've been doing this for five years now, so we already have a lot of research work done, and this award will definitely push us to go farther," Zhuang said. "This will also let people see the importance of our work and also gains a good reputation for Iowa State."