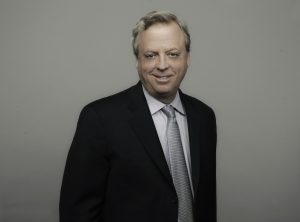 Ames, Iowa – Dave Pepper, a 1985 graduate of Iowa State University, is this year's inductee into the Iowa State University Construction Engineering (ISU ConE) Hall of Fame.
Pepper is chairman of Pepper Construction Group. He accepted the nomination during the ISU Associated General Contractors Banquet on April 21 at the Gateway Hotel and Conference Center in Ames. Paul Francois (B.S.ConE'91), who is president of Pepper Construction Group Ohio and who nominated Pepper for the recognition, presented the honor.
"Since 1984, the industry and the Pepper Company have seen tremendous growth and change," Francois said. "And Dave has made a significant impact, really at the national and local level, because of his passion for education and development."
Pepper's tireless commitment to fostering strong partnerships between industry and local communities marks him as a visionary in the construction engineering field. After graduating from ISU with a bachelor's degree in construction engineering, he joined Pepper Construction Group. Under his leadership, the family company pursued community involvement through workforce readiness programs and school mentoring programs. Pepper Construction also co-founded Hard Hats for Heart, a Chicago construction industry event dedicated to raising awareness for heart health. As a long-time supporter of green building strategies, Pepper encouraged waste recycling within the company and pushed for improved construction air quality.
"When you're managing a company, you have to think outside of the box and learn to listen," Pepper advised students attending the awards banquet hosted in his honor. "Leaders must resist being insulated."
The list of affiliations and memberships that Pepper claims is long. He has served as an executive board member of Associated General Contractors of America (AGC). Within AGC, Pepper has sat on the building division committee, the supervisory training committee, and the education committee.
A champion of education, Pepper was elected president of the AGC Education and Research Foundation in the late 2000s. He has also ensured his company's commitment to the ISU ConE program through the giving of generous financial aid and the hiring of ISU students and alumni. In addition, he served as a member of the ISU ConE Industry Advisory Council, lending engineering experience to departmental vision during the turn of the 21st century.
"I've always had an open-door policy, and I seek out people who think differently than I do," he added. "I try to ask the right questions and allow people to ask me even the most uncomfortable questions without thinking about it."
Whether at a national, state, or local level, Pepper's commitment to the construction engineering industry and to communities is manifestly evident. For these reasons, Dave Pepper is the 2017 inductee into the ISU ConE Hall of Fame.
The ISU ConE Hall of Fame was created in 2010 during the 50th anniversary of the ISU ConE program, which was first established in 1960. The hall of fame recognizes individuals associated with the program who have left a significant mark on construction engineering at Iowa State, on the construction industry, and on their communities through service and achievements. Pepper is the 10th inductee into the ISU ConE Hall of Fame, which is housed in Town Engineering Building on ISU's campus. Iowa State University's Department of Civil, Construction and Environmental Engineering is the parent department for the ConE program.
---
For more outstanding alumni achievements, follow ISU CCEE on Facebook, Twitter and LinkedIn (Iowa State University Civil, Construction and Environmental Engineering and ISUConE).