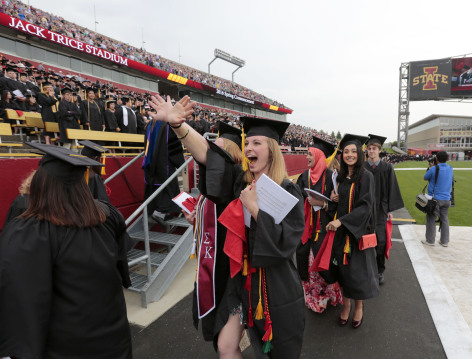 As thousands of Iowa State students prepare to graduate this weekend, the mechanical engineering department will be bringing its pre-commencement reception to the living rooms of families and friends who cannot make the trip to Ames.
The ME department will broadcast a Facebook Live stream of Saturday's pre-commencement reception which will take place from 8:30 to 11 a.m. in the Memorial Union's Great Hall. The stream will be available live on the ME Facebook page beginning around 9 a.m. ME Department Chair Caroline Hayes will address the graduates, as will Undergraduate Program Director Cris Schwartz.
Since students are limited to inviting six guests to the reception, Academic Advisor Alyssa Mittleider and other advisors decided that a Facebook Live stream of the event would be a way to bring the reception to those who cannot attend in person.
"Since we have great students from around the country and around the world, we know that not everyone will be able to attend the event in person.  We want those family members and friends to have the opportunity to cheer on their graduate from wherever they are," Mittleider said.
The ME department first utilized Facebook's live stream feature last November when it broadcast the Mechanical Engineering Learning Community Design Competition.
The full university undergraduate commencement ceremony begins at 1:30 p.m. on Saturday at Jack Trice Stadium. The ME department plans to grant bachelor of science degrees in ME to more than 200 students.
For questions about the pre-commencement reception please contact Advising Secretary Hazel Peterson (515-294-4932, hpeters@iastate.edu) or Academic Advisor Johna Wolfe (515-294-6187, jswolfe@iastate.edu).