At the end of each semester, the College of Engineering honors twelve outstanding seniors from each college. From these twelve, one is selected to serve as the college's Student Marshal.
Rachel Pick, aerospace engineering major, is serving as this semester's College of Engineering Student Marshal during the Spring 2017 commencement ceremony. She will be accompanied by Dr. Anupam Sharma, assistant professor of aerospace engineering, to lead the engineering class into the ceremony held Saturday, May 6th.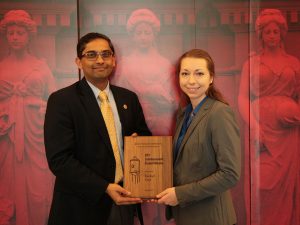 The Mounds View, Minnesota, native Rachel Pick will be graduating with her Bachelor of Science Degree in Aerospace Engineering and a minor in music. During her time at Iowa State, she maintained an excellent GPA while managing to be active in numerous clubs and organizations. She was the Treasurer for Freshman Leaders in Engineering; Fundraising Director (2014-15), Assistant Business Director (2015) and Treasurer (2015-17) for Team PrISUm Solar Car; and Vice President of Finance for Engineering Student Council. She was also involved in Women and Science Engineering, the American Institute of Aeronautics and Astronautics, and Tau Beta Pi. Pick was also a member of the university's top women's choir, Cantamus.
Aside from her involvement with these clubs and organizations, Ms. Pick also conducted research with Dr. Anupam Sharma regarding propulsion, aeroacoustics and aeronautics, and presented at the AIAA Region V Student Conference and ISU Undergraduate Research Symposium in 2016. She was also a recipient of the NASA Iowa Space Grant Consortium Scholarship in 2015-16 and 2016-17.
In the summer of 2015, Pick took her first internship with Rolls-Royce Corporation in Indianapolis, Indiana, as a Maintenance and Overhaul Engineering Intern. Pick wrote and secured approvals for technical variances requested by overseas customers while working in the Defense Operations Center. She collaborated with manufacturing engineers at LiftWorks to create process workflow for component repairs and completed action items associated with process failure modes and effects analysis of LiftSystem clutch disassembly.
The following summer, Pick took part in another internship, this time with Textron Aviation in Wichita, Kansas. She compared external flow characteristics of Cessna Longitude model using FUN3D flow solver and STAR-CCM+ in order to calibrate STAR-CCM+ for external flows. Pick also performed icing analysis on the King Air engine inlet for performance comparisons using STAR-CCM+.
After graduation, Pick will work as a full-time engineer with Rolls-Royce Corporation in their Component Engineering Rotational Program.
Outstanding Seniors named for spring 2017:
Lucas Miles, agricultural engineering
Danielle Moore, biological systems engineering
Catherine Le Denmat, chemical engineering
Glenna Lovig, civil engineering
Ryan Wade, computer engineering
Blake Gethmann, construction engineering
Francis Wagner, electrical engineering
Amro Al-Kazimi, industrial and manufacturing systems engineering
Elena Ewaldz, materials engineering
Omar Maklouf Longou, mechanical engineering
Garret Meier, software engineering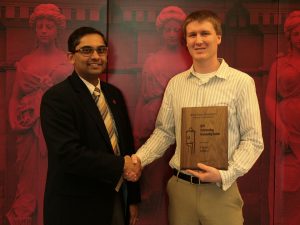 Lucas Miles, an Agricultural Engineering student from Fairmont, Minnesota, has been an active leader during his time at Iowa State. He is currently the President of the American Society of Agricultural and Biological Engineers (ASABE) ISU Student Chapter and was the President of  the 2017 ASABE Midwest Student Rally which was held at ISU. Miles also served as the Treasurer of ASABE, was a member of Engineering Student Council Events Committee, and has been a peer mentor for ABE classes, during which he received the Certificate of Distinction for outstanding service.
Miles is a chapter member of the Alpha Epsilon Honor Society, as well as a member of Tau Beta Pi Iowa Alpha Honor Society. He served as a volunteer for ASABE in the Ames community. Miles also worked for AGCO, an agricultural machinery company, as a lab test engineering intern. During his three summers with this company, he assisted with research in various different settings, such as working with hydraulic testing and hydro-static drive systems. Additionally, he worked as an Undergraduate Research Assistant at the BioCentury Research Farm. Miles is currently a Concurrent Student in the ABE department and is pursuing his Master's of Science Degree on Dr. Matthew Darr's team, and will continue following his undergraduate graduation.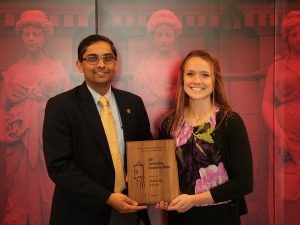 Danielle Moore, a biological systems engineer from Davenport, Iowa, will be graduating with an emphasis in Biorenewable Resources Engineering. While at Iowa State, she played on the Women's Soccer team for four years, and held the position of team captain in the 2015-16 year. She was also a part of the Engineering Student Council, in which she was the Vice President of Events for two years and the Vice President of Communications for one. In 2014-15, she was a Student Admissions Representative and gave campus tours to prospective students; Moore also worked as a Teaching Assistant for an Agricultural and Biological Systems Engineering class.
Moore spent two summers serving as an intern for John Deere, once at John Deere Des Moines Works, and once at the John Deere Product Development Center in the Quad Cities. She was also an Engineering Intern for the City of Davenport Public Works Department where she worked under the city engineer. After graduation, Moore plans to return to John Deere Des Moines Works as a manufacturing engineer.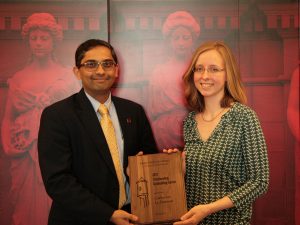 Catherine Le Denmat, a chemical engineering student from Racine, Wisconsin, will be graduating with a minor in Biomedical Engineering and as a full Honors Member. Le Denmat spent a great deal of her time as a student involved in research at Iowa State, including in the First Year Honors mentor program. She continued her research lab experience even while studying abroad in Switzerland during her junior year, spending the fall 2015 semester working as a Biotechnology Research Assistant. She enjoyed many opportunities presenting her research across the US at various conferences, from Atlanta to San Francisco. On top of her research experience, she was actively involved in several organizations, including the American Institute of Chemical Engineers (AIChE), Society of Women Engineers, and Tau Beta Pi engineering honors society, where she was Projects Officer.
Along with lab research, she has held two different summer internships: one as a Biofuels Analysis Assistant with ISU's Bioeconomy Institute, and the other as a Research and Development Intern with the Institute of Life Technologies in Switzerland. After graduation, Le Denmat will be joining 10 recent graduates as an associate engineer in the three-year-long Merck Manufacturing Leadership Development Program. Her first year-long rotation will be in Singapore, where she will be working on a cancer therapeutic.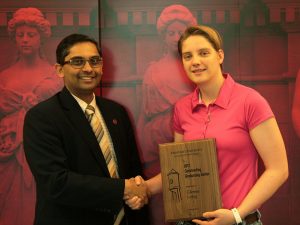 Glenna Lovig, a civil engineer from Brooklyn, Iowa, received many honors during her time at Iowa State. She was included in the 2016 Women Impacting ISU Calendar presented by the Carrie Chapman Catt Center, and the College of Engineering recently chose her for the Dean's Student Leadership Award. She has been named to the Dean's List from spring 2014 to spring 2016 and has received numerous scholarships.
Lovig was extremely involved at Iowa State. She devoted much of her time to Women in Science and Engineering (WiSE), is the president of the Society of Women Engineers (SWE), served as a peer mentor and participated in ISU Dance Marathon. She also studied abroad in Turkey and Madrid. Lovig held internship positions with Graves Construction, the U.S. Army Corps of Engineers and at Burns and McDonnell, where she was involved with the design of transmission lines and developing a guide to aid in the design of reinforced concrete slabs. Upon graduation, Lovig will spend this summer in the bridge design group at HNTB before returning to ISU in the fall for graduate school to pursue a Master's of Science with a structural engineering focus.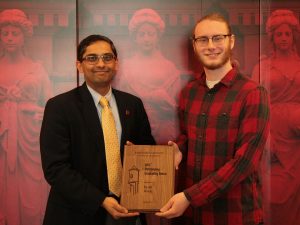 Ryan Wade, a computer engineer from Chanhassen, Minnesota, will be graduating with a minor in music in addition to his engineering major. A self-starting entrepreneur, Wade was involved in IEEE, CSE, and M2I where he helped lead the Autonomous Sailboat Project; he also worked in the DCNL (Dependable Computing and Networking Lab) to research techniques for automotive lane departure and collision warning systems. Wade was hired as a software engineering intern at Garmin International during the summer of his freshman year. While working there, he updated software tests, created a notification system to identify problems with software tests, fulfilled and authored Change Request involving data synchronization issues. Wade also had a summer internship at Union Pacific, in which he designed a web interface to display real time sensor data, met with customers to determine project requirements, and worked as a full stack developer for embedded web apps. After graduation, Wade will be moving to Kansas City where he will work for Garmin International.  There he will help develop the user interfaces of navigation units for the Aviation Department.  In Kansas City, Wade also plans to join the startup community and spend time with his wife and family in the area.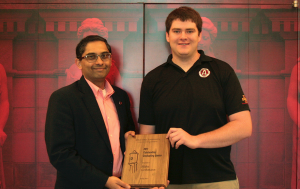 Blake Gethmann, a construction engineer from Marshalltown, Iowa, construction in his blood. His great-grandfather started Gethmann Construction, in which Blake welded and fabricated steel for the family company which his aunt now runs. As young as 5th grade, Gethmann has been involved in projects with construction companies, and enjoyed helping with steel, concrete and project management. Gethmann was a member of the Alpha Lambda Delta and the Phi Eta Sigma honor societies.  He was also the captain of the heavy civil team in the Associate Schools of Construction Region 4 Competition. He dedicated most of his work to the student chapter of Associated General Contractors (AGC), and went on several semester break trips to provide disaster relief in areas affected by disaster. After graduation, Gethmann plans to work as a traveling field engineer for Graycor Industrial in Chicago.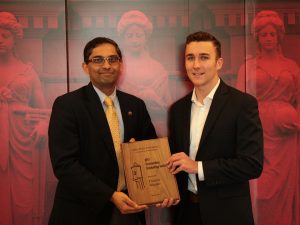 Francis Wagner, an electrical engineer from Manassas, Virginia, has been an active participant in many organizations during his time at Iowa State. He has been the president for the Wind Energy Student Organization, the founder and chair for the IEEE Power & Energy Society Student Chapter, and the Iowa State undergraduate representative for the Mid-America Regional Microgrid Education and Training Consortium.  He has also been a tutor and a Supplemental Instruction leader for physics and calculus courses.
Francis has participated in the Electric Power Research Center, working to develop a model to determine relationships between state variables in a power system.  During the past two summers, he completed engineering internships: one at Burns & McDonnell in Kansas City, Missouri, where he developed four programs to increase project efficiency, and the other at NV5 in St. Paul, Minnesota, where he completed preliminary designs for three relay replacements." After graduation, he will be working at Burns & McDonnell in Chicago as an Assistant Electrical Engineer in Transmission & Distribution.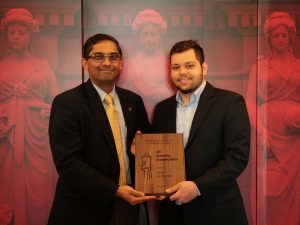 Amro Al-Kazimi, an industrial and manufacturing systems engineer from Amman, Jordan, served in several leadership positions while at Iowa State, including holding the position of president of Alpha Pi Mu, the Honors Society for Industrial Engineering. Al-Kazimi also worked as an undergraduate research assistant, where he used economic modeling to assess the impact of natural and man-made disasters. He also gained valuable work experience as a summer intern with PricewaterhouseCoopers in Dubai (United Arab Emirates) and with Unicharm Gulf Hygenic Industries in Riyadh (Saudi Arabia). After graduation, Al-Kazimi plans on attending graduate school.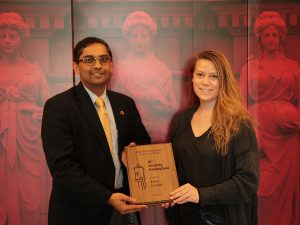 Elena Ewaldz, a materials engineer from Rockford, Illinois, balanced her excellence in academics with leadership and service experience while earning her degree. She is the President of the student professional organization, Material Advantage; she is also a member of SWE and is on the Student Advisory Council for the Materials Engineering Department. Ewaldz worked for UTC Aerospace Systems in the summer of 2016, and for Bemis North America as a plant process engineering co-op and as a Lean Manufacturing team leader. At ISU as a research assistant in AMD. Among her honors, she is a member of Tau Beta Pi and Phi Kappa Phi.
Ewaldz studied abroad at Brunel University near London in 2013, worked as a grader for materials engineering classes, and has served as a peer mentor for materials engineering first year students since January 2015. After graduation, Ewaldz will be attending Georgia Institute of Technology to pursue a PhD in Materials Science and Engineering.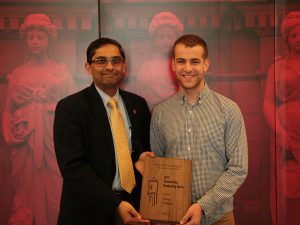 Omar Maklouf Longou, a mechanical engineer from Solon, Iowa, is graduating with a minor in wind energy systems and as a George Washington Carver Scholar. He has stayed busy with numerous internships, including ones with Minnetronix in St Paul, Minnesota, Polaris Industries in Milford Iowa, and Altec Industries in St. Joseph Missouri.  In addition to his studies, he has also worked as a laboratory research assistant with the Advanced Flow Diagnostics and Experimental Aerodynamics laboratory in Ames. Seeking to make himself a more well-rounded person, Longou took the opportunity to study abroad, visiting Scotland in the Spring of 2016.
He currently serves as a mentor with Youth and Shelter Services, acting as a positive role model and helping students transition from middle school to high school. He is also a proud member of the Delta Chi Fraternity, where he remains active, working to support and expand the organization. After graduation, he will be moving to Orlando, Florida to begin a full-time rotational position as a Wind Engineer with Siemens Wind Power Inc.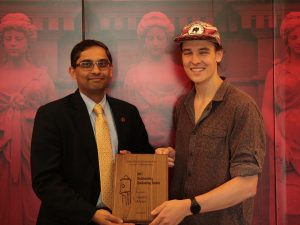 Garret Meier, a software engineer from Billings, Montana, is graduating with honors this year. He embodied the spirit of being involved on campus, especially within the area of software engineering. He is currently serving as the president of the Software Engineering Student Advisory Council, served as a peer mentor, and was been heavily involved in HackISU, in which he held several leadership positions.
During his time at Iowa State, he has also completed multiple internships and career opportunities, which include Square Infinity Technologies, Bunchball, Pitchly and Uber. Meier spent last summer as a KPCB Fellow interning as a Software Engineer with on Uber's Communications Platform team. He has also spent his weekends helping empower student hackers by traveling to hackathons across the country as a Coach for Major League Hacking. After graduation, Meier will work as a Software Engineer for Mixmax, an email analytics and automation startup in San Francisco.