Two graduate students in the Department of Materials Science and Engineering, Santosh Shaw and Xinchun Tian, have been selected to receive the Graduate Research Excellence Award. The Research Excellence Awards are given to recognize graduate students for outstanding research accomplishments as documented in their theses and dissertations. These students are also expected to be academically superior and able to not only do research but develop a well-written product. The intent of this program is to recognize "the best of the best" graduating students who have submitted theses and dissertations.
Shaw and Tian are both Ph.D. students working under Dr. Ludovico Cademartiri, Assistant Professor in the Department of Materials Science and Engineering. They have received a letter of commendation from Iowa State University President Leath, a certificate of achievement signed by the Graduate Dean and President Leath and an honor cord to be worn at commencement.
Santosh Shaw
Shaw was selected for his problem resolution strategies that he was able to accomplish in providing the scientific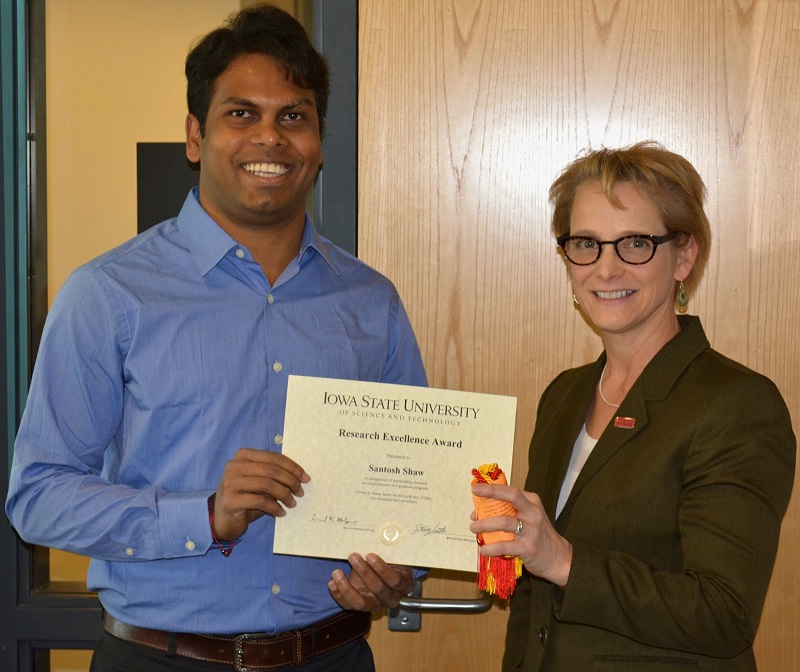 community with the first step towards truly programmable solid state materials. His project involved using colloidal nanoparticles – small chunks of solid matter that are coated with a single layer of molecules and are dispersed in a solvent – to find a new way to make materials.
Dr. Cademartiri said, "Santosh's work was published in two back-to-back publications in Advanced Materials, which is the second most prestigious journal in all of materials science (impact factor = 18.96). Santosh was instrumental in a number of other papers that were also featured in high profile journals. In total, Santosh currently has 5 articles in Advanced Materials, and a couple more to come. This type of output is competitive for postdoc positions in the top schools in the country and, later on, with faculty positions."
Xinchun Tian
Tian is currently the first author on two papers in Advanced Materials (impact factor = 18.96), and coauthor in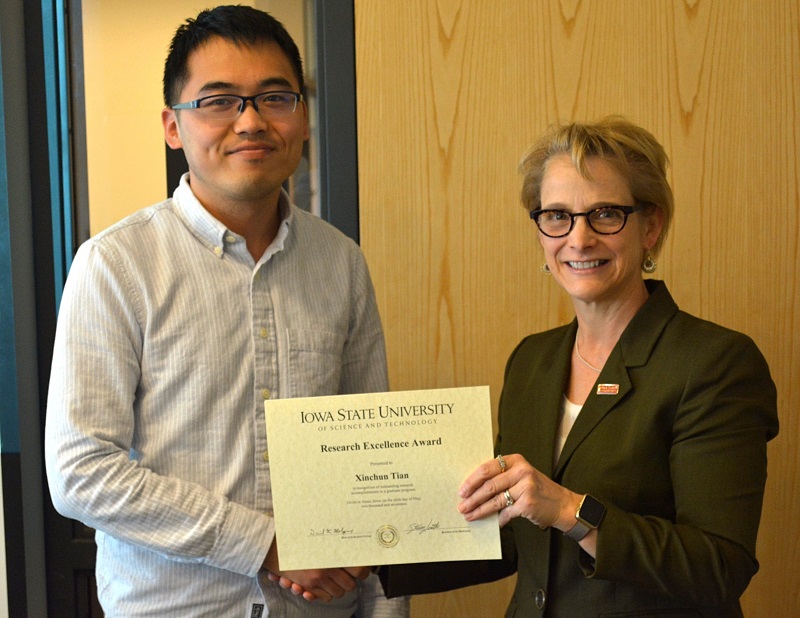 another Advanced Materials paper. He has other co-authorships, one of which is bound for submission in Science. His work has spanned the development of superhydrophobic coatings to the synthesis of nanocrystals to the computerized control of biological environments. His main piece of work has been the development of a strategy for the fabrication of superhydrophobic surfaces from basic silicone sealants.
Dr. Cademartiri said, "Xinchun has been a highly productive student in my laboratory. He has shown tremendous dedication to the science and the understanding of the phenomena that he is studying. Xinchun's strengths are largely his creativity, work ethic, and commitment to do groundbreaking research rather than incremental research. I have high hopes that Xinchun will be able to obtain a publication in a top tier journal before he concludes his Ph.D."