David Altenbernd held many titles in his lifetime: Father, Cyclone, WWII veteran, radar expert and philanthropist. But to summarize his life in just a few titles would not do justice to the great adventure that started at Iowa State University.
Born in Muscatine, Iowa, in the winter of 1921, Altenbernd was destined to inherit his family construction business. But before that, he decided to attend Iowa State to major in electrical engineering. Little did he know, by enrolling in electrical engineering at ISU during the time of the WWII draft, he was also enrolling himself in an "Ultra High Frequency Techniques" course. Along the way, he would also meet his wife, Floy, a journalism major at Iowa State. 
This "Ultra High Frequency Techniques" course was created to keep students out of the WWII draft by enlisting them domestically. The content of the course is what would roughly translate to radar today. They learned how to transmit data, how to repair radar equipment, how wave lengths work and more. Upon graduation from Iowa State, Altenbernd was sent to Syracuse, N.Y., along with his classmates to complete his training. From there, he was sent to Okinawa, Japan, in preparation for an invasion that was replaced by the 1945 atomic bombings. Due to his background in construction, Altenbernd ended up spending most of his time in Japan rebuilding the city after the bomb destruction.
When he returned to the States, Altenbernd settled down in his hometown of Muscatine. He and his wife, Floy, raised four children, Richard, Chris, Patricia and Peggy, and he ran the family construction business while Floy taught art at the public school. At the age of 51, Floy and David decided their adventures weren't over. They sold the family construction business and joined the Peace Corps, and they spent the next 30 years in Africa and Haiti helping build communities.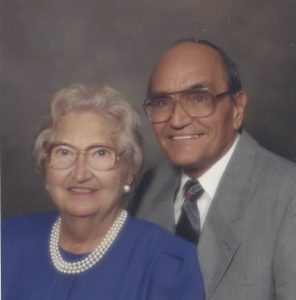 Alternbernd's son, Chris, who dropped out of school at Harvard University in the 1960s to volunteer in Mississippi during the Civil Rights Movement, recalls his father's great philanthropy. 
"I always thought that my volunteering to serve in the Civil Rights Movement in the '60s in Mississippi may have caused my dad and mom to join the Peace Corps," Chris said, "but he [David] went to Africa because of the qualities of his character that he taught to me. I was merely the student, even though I thought I might have been the teacher." 
Floy and David volunteered for the rest of their lives after returning from Haiti and Africa. They even volunteered in Louisiana after Hurricane Katrina well into their 80s. 
Floy passed away in May 2016, and David passed this past January of 2017. In the couple's last years they added potters to their list of titles. In one last cherry on top of the wild adventures of their lives, the couple's ashes will be housed in an unusual urn: A cookie jar that they crafter themselves. And though they are gone, the legacy of their volunteerism lives on through their children and those they touched.