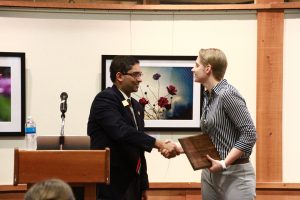 Civil engineering major leaves legacy of leadership as graduation approaches
Glenna Lovig's advice to fellow Cyclones? Don't be shy.
"There is a lot at Iowa State and it can be intimidating, but the more things you get involved in, the more experiences you have," she says.
This month, the College of Engineering recognized Lovig with the Dean's Student Leadership Award. Lovig received the award for her involvement in multiple student organizations on campus. 
Lovig's résumé is long and varied. She has held leadership positions within WiSE (Women in Science and Engineering) and SWE (Society of Women Engineers) and involvement in Dance Marathon, a student-led philanthropy that raises funds for the University of Iowa Children's Hospital. Out of all these experiences, Lovig says nothing beats mentoring fellow students.
"That's one of the things that I really enjoy about leadership, helping others become leaders," she says.
The award is issued to junior and senior engineering students based on their exemplary leadership in one or more college, university, community, or professional organizations. This year, Lovig was one of only two engineering students recognized with the award.
Though she graduates this spring, Lovig has chosen to return to Iowa State's Civil, Construction and Environmental Engineering Department (CCEE) in the fall. She will be studying bridge design as a graduate student.
---
Want more interesting news on student achievements? Interact with CCEE on Facebook, Twitter, and LinkedIn (Iowa State University Civil, Construction and Environmental Engineering and ISUConE).