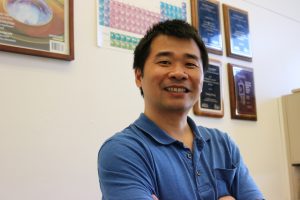 Iowa State University is no stranger to innovative research, and Electrical and Computer Engineering Professor Liang Dong has proven just that. Dong's research, which has been recently featured on the front cover of the journal Lab on a Chip, is about the development of tiny sensors helping farmers keep amounts of fertilizer under control in their fields.
"Sufficient nitrogen fertilizer is essential for high crop yields. But if there is too much fertilizer applied to crop fields, the plants will not use it, and excess fertilizer containing nitrate will cause many negative effects on our environment and ecosystems because the excessive nitrate can be carried to water with runoff and can increase greenhouse gas emissions," Dong said. "How we solve this problem is in the development of low-cost, microscale sensors that measure levels of nitrogen in agricultural soils over time. The goal is to obtain real-time data using sensors for making immediate recommendations to farmers regarding how much nitrogen fertilizer is exactly needed."
The research, which is showcased in the journal, was funded by grants from the National Science Foundation and the Iowa Corn Promotion Board. It was also supported by the Plant Sciences Institute (PSI) at Iowa State, where Dong is a faculty scholar. Dong said the PSI provides significant support to faculty members or scientists on campus who have interests in and expertise to develop and deploy new technologies for monitoring plant and soil health condition.
"With that support, I'm able to work with different people in agronomy, plant and soil sciences and engineering; therefore, we have a lot of exchanges in ideas," Dong said. "Especially as an engineer, we want to know how we can use those sensors for their needs."
According to Dong, being featured in Lab on a Chip proves the research is interesting to others, and is also a way to promote the product. The nitrate sensor has also proven to outperform the sensitivity of existing sensors.
"It is an honor that our sensor research is featured on the front cover of the leading journal in this area," Dong said. "Our nitrate sensors that we develop can have a great impact on sustainable food, agriculture, environment and ecosystems."
Dong joined the faculty in the Department of Electrical and Computer Engineering at Iowa State in 2007 as an assistant professor doing research and teaching in microsystems in bioengineering. He received his bachelor of science in precision instrumentation from Xidian University, China, in 1999 and his doctorate in electronic science and technology from Tsinghua University, China, in 2004.
"In research, there are always many unknown factors, which may make the work succeed or fail," Dong said. "There are a lot of uncertainties, which are the most beautiful things that I want to explore."
Other authors of the paper include Electrical Engineering postdoctoral researchers Azahar Ali and Huawei Jiang; Electrical Engineering graduate student Yifei Wang; Agronomy Associate Professor Michael Castellano and Agronomy graduate student Navreet Mahal at Iowa State University; Chemical Engineering postdoctoral researcher Kunal Mondal at North Carolina State University and Chemical Engineering Professor Ashutosh Sharma at Indian Institute of Technology Kanpur.
Read more about the research here.