Industry partners share tips for making your next career fair one for the books
Every year, thousands of students attend Iowa State University's (ISU) two Engineering Career Fairs. So in the bustle to get résumés printed off or get that interview outfit ready, remember these top tips from industry partners. 
Research, research, research
Every industry representative interviewed for this story singled out research as key to your career fair preparation.
"Doing a little research up front on what we're about and the projects that we've done makes it really easy for us to make a quick connection with you," says Melissa Jurgens, a client development engineer for Saul Engineering.
Have questions for recruiters about specific projects their companies have worked on or are currently completing. And make sure to learn about the internships or job opportunities offered.
"This is a great opportunity for you to get to learn about us, to make sure that we fit with you," Jurgens says.
(Click on the video on the right hand side of the page for more advice from industry partners) 
Brag up experience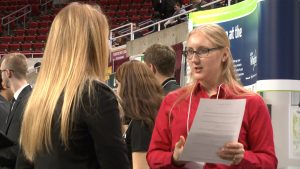 "Real world experience comes into play, because you're showing that you can demonstrate the ability to apply some of the concepts and terms that you have learned throughout some of your courses," says Lori Pflughaupt, a recruiter for the Iowa Department of Transportation.
If you're saying, "Experience is why I'm applying for internships," don't fret. Even if your résumé is light on work experience, there are tons of ways to earn that real-world prowess.
Leadership, teamwork, attendance at conferences, activeness in student organizations … Pflughaupt says all of these can help you build a strong résumé. Another tip? Try to show some longevity, whether that is a long-term internship/job or an ongoing organizational commitment. This can demonstrate to recruiters that you are reliable.
Grades are (somewhat) important
Don't get this wrong: employers DO look at your grade point average (GPA). But that's not all they are looking at.
"A great GPA is great, but a great GPA and a hard worker is even better," says Frank May, the vice president of recruiting with Clayco.
When it comes to your résumé or your conversations with employers, focus on your hard work at your job, in student organizations, and during volunteer activities. Pflughaupt has this extra advice on how to make your résumé stand out.
"Show accomplishments instead of listing some of your job duties," she suggests.
Highlight your passion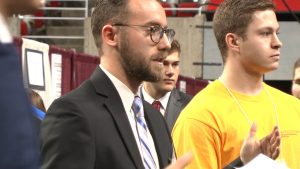 When it comes to those few seconds you get with a recruiter, don't waste precious time just talking about classes, coursework, or what major you're in.
"All that stuff is great, but it's stuff that we can read about on your résumé," Jurgens says.
Instead, pinpoint interests within your engineering field. Talk about sustainability, safety, research, or any other hot topic about which you are excited. Find your passion and learn to feature it.
Oh, and don't forget to channel some excitement into that 30-second elevator pitch.
"You can tell when people talk with passion about things that they're interested in," Jurgens says.
Don't Limit Yourself
Recruiters encourage students to think beyond the career fair.
"The experience that you learn on an internship is invaluable," May says. "It also opens up opportunities for other companies to be interested in what you do."
However, networking opportunities or skill-building experiences can be missed if a student accepts a poor-fitting internship or job. So May's next advice is "learn how to say 'no,' politely."
"Choose the right internship, choose the right job," May urges students. "When a company is interested in you, make sure you learn how to tell them 'no' with respect and in a timely manner. You never know when you may need them again."
To make the most out of the career fair, recruiters suggest making a list of the top ten companies you want to visit. Visit your number ten pick first, and work your way up to your preferred company. Your pitch should get better as you go along, and any nerves you had at your tenth company will settle by the time you interview with your ideal company.
---
Check out a short video featuring this advice on our YouTube channel, found by searching Civil, Construction Environmental Engineering. And follow us on Facebook, Twitter, and LinkedIn (Iowa State University Civil, Construction and Environmental Engineering and ISUConE) for more feature stories like this one.