IMSE student shows how the two seemingly different activities go hand in hand 
Comparing marching band to engineering may seem like comparing apples to oranges, but Joseph Schneider,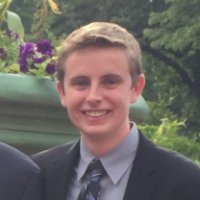 senior in industrial and manufacturing systems engineering and second-year drum major of the Iowa State University Cyclone Football "Varsity" Marching Band, tells us otherwise.
In fact, he says the overlap between engineering and marching band is one of his favorite parts of the activity. "It seems like a funny thing, but any time you're striving for a continuous improvement, you're definitely using those engineering principles that people learn in all engineering fields."
Schneider was recently a part of the Cyclone Drone project, where a few engineering majors in the ISUCF'V'MB got together and proposed an idea that would have a drone capture a bird's-eye view of marching band rehearsals.
"People will have watched themselves and the form," Schneider comments. "They can see, 'oh I was out of step here', or 'I'm going to make this line this way.' When you're on the field, you have one perspective, but to get that bird's-eye view is a whole other thing."
Applying concepts from engineering to marching band opens up a lot of opportunities. Engineering majors in the band help with things like the Cyclone Drone project, but also with things such as creating the band's website, or updating and writing manuals for drum majors and other leadership positions.
Schneider notes that the band is made up of about 40 percent engineering majors, while the rest of the band comes from other colleges.
"That's how the real world works," Schneider remarks. "if you expect to work with only engineers your whole life, it would get a little boring. If you're going to pitch a new idea, you need to be able to explain to everyone why it's useful, not just say, 'I'm an engineer and it works.'"
After graduating this spring, Schneider plans to return to Illinois to work with plastic injection molding for Illinois Tool Works.
"I do think I'll want to be in a leadership or management role at some point in my career," says Schneider, "but I think to be most effective in that kind of role, I want to be on the ground floor as long as I can so I really understand how things work at the main, base level before I start making decisions."