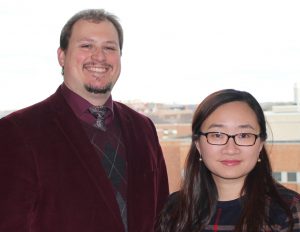 Two Department of Chemical and Biological Engineering faculty members have been appointed the recipients of fellowships. Assistant Professor Zengyi Shao has been named Jack and Carol Johnson Faculty Fellow; and Assistant Professor Tom Mansell will be the Karen and Dennis Vaughn Faculty Fellow.
Jack Johnson, who received a B.S. in computer science from Iowa State in 1981, has shown generous support for the Department of Chemical and Biological Engineering in memory of his wife, Carol Vohs Johnson, who obtained a B.S. in chemical engineering from Iowa State in 1980. She passed away in 2014. CBE professor Surya Mallapragada was named Carol Vohs Johnson Chair ("Carol's Chair") in 2015.
Dr. Shao came to Iowa State CBE in 2013. Her research centers on synthetic biology and renewables.
Karen and Dennis (Denny) Vaughn both graduated with B.S. degrees in chemical engineering from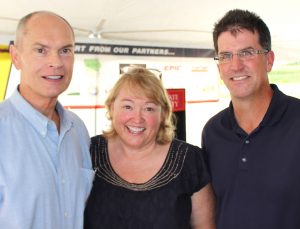 Iowa State in 1970. They have a long history of supporting Iowa State and the Department of Chemical and Biological Engineering.
Denny Vaughn served on the department's Advisory Council from 2010-2015. In 2016 he was a recipient of the Professional Achievement Citation in Engineering (PACE) Award.
Dr. Mansell joined the ISU CBE faculty in 2016. His primary research area is synthetic biology for engineering of microbial communities.
Both fellowships will be held through the 2018 calendar year.