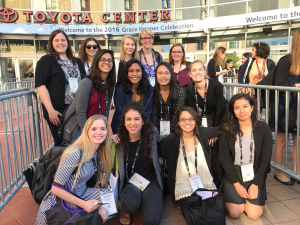 Grace Hopper carries many titles: Navy admiral, computer engineer, co-creator of the term "computer bug" and most recently the posthumous recipient of the Presidential Medal of Freedom. Her biggest claim to fame might be her work on Mark I, a naval computer that ran mathematical equations, which aided in the creation of the atomic bombs used in WWII. It is rumored that during Hopper's time on this project, a moth flew into one of the circuits, causing an error in the program, hence the term "computer bug." The legend lives on at Iowa State University in the moth statue outside of Coover Hall, home to the Electrical and Computer Engineering department on campus.
It is in the spirit of Hopper that the Grace Hopper Celebration of Women in Computing conference was founded. Each year, the best minds in the engineering world come together to celebrate the accomplishments of women in computing. This past year, that included 10 women in STEM — Science, Technology, Engineering and Math — fields at Iowa State.
The conference gave these students the opportunity to hear from industry speakers, connect with other women in computing and attend a career fair with over 200 employers. Ashley Dvorsky, a senior at Iowa State majoring in Software Engineering, was one of those in attendance. She used what she learned at the conference as a springboard to share the Hopper legacy further.
"After the conference, I had done a presentation on her leadership for the Dean's Leadership Class," Dvorsky said. "I think that having more people hearing about the great legacy that Grace Hopper has left and fully understanding her contributions to computing will make the point that women have always been on the forefront of computing and that women in STEM isn't some new concept."
While Hopper's legacy inspired all the women who attended the conference, it also provided an important opportunity to network. Especially in a field where women are a minority, it is powerful to attend a conference surrounded by people with similar interests.
Assistant Professor and Digital Women Faculty Advisor Phillip Jones said, "It is a great opportunity for a core of the Digital Women members to have a shared experience for bonding. Not only does bonding occur during the trip, but opportunities arise during the fundraising process for members to step into leadership roles and to bond with the rest of the group. Often there are roles that involve members reaching out to industry, making and strengthening industry relationships."
Hopper passed away in 1992, two years before the founding of the Grace Hopper Celebration of Women in Computing. She never got to witness the giant celebration held in her name. But her legacy lives on in the connections made between thousands of intelligent women in computing from across the globe.