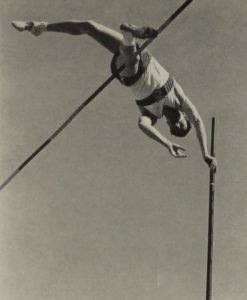 ISU mechanical engineering alum and former Cyclone pole vaulter Rex Harvey has been elected chair of USA Masters Track & Field.
The Redfield, Iowa-native will head the division of USA Track & Field for athletes 35 years and older. He holds a BS in mechanical engineering from Iowa State and an MS in systems management from the University of Southern California. As a graduate student he also served in the U.S. Air Force during the Vietnam War. Following his service, Harvey worked in the engineering field for nearly three decades and developed 15 patents, mostly for commercial aircraft and supercomputers.
As a prep at Dexfield High School he was a 17-time individual champion and four-time team state champion. He was a Big 8 Conference runner-up six times in the pole vault and went on to compete for six USA international track and field teams. He was a finalist on the 1976 Olympic trials team and broke the World Record in the M45 Decathlon in 1991.
"I grew up in a very small town. My introduction to the great wide world beyond that town was through Track & Field. It has shaped and directed my life in a wonderfully positive way. I would like to pass the opportunity to expand their horizons, and honorably distinguish themselves on the track, and on the field, to as many people as possible," Harvey said is a press release.