Nearly 140 attend showcase to compete, learn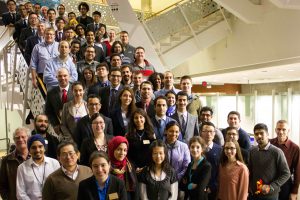 The Civil, Construction and Environmental Engineering (CCEE) Graduate Student Council hosted its Sixth Annual CCEE Graduate Student Research Showcase and Poster Competition on Nov. 30 in Howe Hall Atrium.
The showcase attracted almost 140 attendees, with nearly 60 posters submitted for competition. Georges Bou-Saab is the president of the CCEE Graduate Student Council. He says this year's attendance and participation were record numbers for the event.
"The number of students participating in the research showcase and poster competition changed drastically over the years," he said. "I was impressed with the dedication and commitment of the council members and graduate students."
Students presented research in five different categories: construction engineering, environmental engineering, geotechnical and geotechnical materials engineering, structural engineering, and transportation engineering. This year, the council added a new category of Exhibition Showcase. The category was aimed at attracting undergraduate student participation.
Not only did contestants showcase their research to Iowa State University (ISU) faculty, but they also presented to judges from industry and government. The Iowa Department of Transportation, the Federal Highway Administration, city municipalities, and industry leaders like TerraCon, Black and Veatch, and Kiewit all sent judges to review research projects.
Bou-Saab said each poster was judged at least three times, which leant to an exciting learning environment.
"This experience provided the students with the opportunity to present their research to a panel of judges from academia and industry and practice their presentation skills," Bou-Saab said.
---
2016 CCEE Graduate Student Research Showcase and Poster Competition Winners (by category)
Construction
First Place – Milagros Pinto-Nunez, "Institutionalizing the Principles of Partnering"
Second Place – Ricardo Tapia, "Managing Scheduling Risk Due to Geotechnical Uncertainty Using Linear Scheduling"
Environmental
First place – Guyu Shi, "Physical Characteristics of Pervious Concrete and its Effectiveness in Stormwater Pollution Attenuation"
Second Place – Rusen Sinir, "Analytical Solution of a Model of Contaminant Transport in the Advective and Stagnant Zone"
Geotechnical/Geomaterials
First Place – Cheng Li, "Gyratory Abrasion with 2-D Image Analysis Test Method for Evaluation of Mechanical Degradation and Changes in Morphology and Shear Strength of Compacted Granular Materials"
Second Place – Haluk Sinan Coban, "Increasing the Use of Lime Sludge for Soil Stabilization"
Structures
First Place – Shahin Hajilar, "Molecular Insights to Diffusion of Chloride Ions and Water Molecules at Interfaces of Ettringite"
Second Place – Seyedbabak Momenzadeh, "Potential Issues in Seismic Demand on Columns in SCBFs"
Transportation
First Place – Emira Rista, "Michigan Urban Trunkline Safety Performance Functions (SPFs): Development and Maintenance"
Second Place – Timothy Barrette, "Safety Impacts of Access Point Proximity to Freeway Off Ramps"
Exhibition
First Place – Brandon Ophoff, "Building Energy Study and Analysis"
People's Choice
Saeed Arabi, "Vulnerability Assessment of Sign Support Structures During Transportation"
First place category winners : Saeed Arabi, Shahin Hajilar, Cheng Li, Emira Rista, Milagros Pinto Nunez, Guyu Shi, and Brandon Ophoff. Presenting awards to recipients is Dr. Jennifer Shane and CCEE Graduate Student Council President Georges Bou-Saab
Check out our Facebook album featuring photos of this event. If you are interested in getting involved with CCEE Graduate Student Council, contact Georges Bou-Saab at gbousaab@iastate.edu. And make sure to follow departmental social media, including Facebook, Twitter, and LinkedIn (Iowa State University Civil, Construction and Environmental Engineering and ISUConE) for the latest research news.