When it comes to re-making houses into homes, these Iowa State students get the job done
Why would a student give up fall break? Nic Schneider, who is a first-semester freshman at Iowa State University (ISU), has a simple—but touching—answer.
"Helping people is the best satisfaction."
In the past weeks, members of Iowa State University's student chapter of Associated General Contractors (AGC) have lived out that sentiment. The group traveled to the Baton Rouge area of Louisiana during fall break to take part in its semester volunteer trip.
"It's important for the families, and for us as ConEs (construction engineers) to show that our industry gives back," said Kurtis Schreck, vice president of ISU AGC and the organizer of this semester's trip. "We have the tools and experience to do that."
Almost 40 members put their experience to work. The group committed 1,165 volunteer hours to six housing projects – nearly 30 hours per member. It's not just a breakdown of hours, jobs, or projects. The work is truly rewarding.
ISU AGC members in project groups (Photo courtesy Nathan Pals)

| | | | | | |
| --- | --- | --- | --- | --- | --- |
| | | | | | |
"You're not doing it just so that you can build a house. You're doing it for the people," Schreck said. "Really, it's about them."
While on the trip, students meet local communities. Playing basketball with the neighbor kids or taking time out to talk with homeowners is part of service.
"It makes them feel happy knowing that we care about them … and it makes us feel happy knowing that we're making a difference," Schneider said.
After spending a fall break building houses – many for those who lost homes to natural disasters – the freshman is convinced that he has made a good decision.
"After going on this trip, I've realized that construction engineering is the right way to go," Schneider said.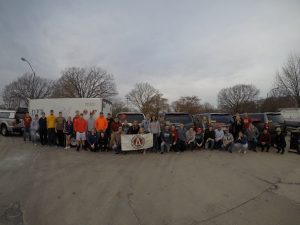 This semester will mark the group's sixth fall service trip. Faculty advisor to the group, Senior Lecturer Larry Cormicle, is always impressed by students' efforts.
"I am amazed by how hard they're willing to work and how many hours they're willing to work in selfless service to help those in need," Cormicle said. "I am not only amazed, but I am awed."
Combined with spring break volunteer trips, it will be the eighteenth time ISU AGC has traveled around the nation to rebuild after natural disasters. After an ISU AGC member goes on a service trip, Cormicle says they just "catch the bug."
"They cannot not go."
That's true for Schreck …
"Our entire major is based around building things. If we can use that set of skills to impact people directly, that's pretty awesome."
And for Schneider, who's already planning on another trip.
"I definitely look forward to next Thanksgiving," he said.
---
Find out more about ISU AGC. Follow Iowa State University's Department of Civil, Construction and Environmental Engineering and its student organizations' news on Facebook, Twitter, and LinkedIn (Iowa State University Civil, Construction and Environmental Engineering and ISUConE).