Materials Engineering senior, Matt Goode, from Coggon, Iowa has been leading over 100 students within PrISUm, the solar car team at Iowa State University, in developing the world's first solar utility vehicle (SUV) named Penumbra. This vehicle will compete in the cruiser class of the 2017 Bridgestone World Solar Challenge to race across the Australian Outback on October 8-15, 2017.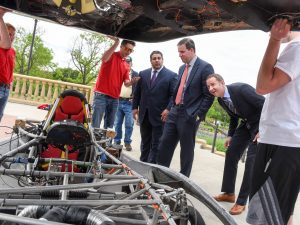 The team of students from a variety of backgrounds- engineering to public relations to elementary education- have been putting in long hours every week to stay on their strict timeline to unveil the newest solar car in early June. After the unveiling, the team plans to tour all 99 counties within Iowa to promote Science, Technology, Engineering and Math (STEM) outreach. For this student organization, long hours mean about 70 members putting in 40 or more hours per week to complete Penumbra.
Why is this car consuming so much time? Penumbra will be the first solar utility vehicle on earth. They began creating the car in May of 2015. The design is like nothing that has ever been crafted before. They wanted to build a car that is a representation of the American lifestyle: on the go, fully functional, and comfortable.
Penumbra will be able to seat four adults with ease. It can fit a full set of skis within the cargo area and has the capacity to hold 13 carry-on bags. It utilizes the same amount of power as an electric hair dryer to go 40 miles per hour. Penumbra will have wireless charging for cell phones, touchscreen infotainment system with Bluetooth connectivity and cup holders. There will be additional innovative and advanced features that will be announced at the unveiling in June.
In previous years, PrISUm has built a new car every two years for the American Solar Challenge.
"It has always been a dream to attend the World Solar Challenge, but we never had the budget that others had. Other teams that compete at the world level have a budget of $1.5-$3 million per solar car. We wanted to build something that excites people and everyone involved since there are so many different backgrounds and interests working on the car," said Goode. "We decided to build a car that is actually drivable and practical, yet a huge challenge that brings excitement out of this group."
PrISUm is run like a large business. It has deadlines, specialized teams, sponsorship, and dedicated and passionate people that make it operate.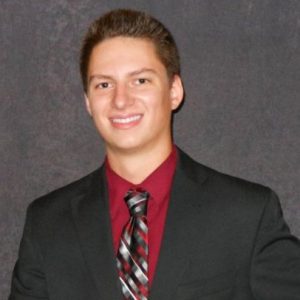 With every successful business comes a successful leader. Matt Goode is the Project Director of PrISUm. He manages university relationships, sponsorships for donors over $10,000, interpersonal team communication, the Penumbra timeline, and team motivation. Currently, he puts in about 60 hours per week on PrISUm and Penumbra. Goode is also on a research team with Dr. Pete Collins, Associate Professor in Materials Science and Engineering, and he manages to fit in a normal course load.
Goode's interest and passion for PrISUm started many years ago while he was in a robotics class in middle school. His class got the opportunity to tour Iowa State University and see the car that PrISUm was building. As a senior in high school, he only applied to schools with solar car teams. After deciding to attend Iowa State, he actively sought out PrISUm, and his passion grew from there. Four years later, he is the project director of Penumbra, the world's first solar utility vehicle.
"Through my involvement in PrISUm, I have learned that communication and organization are huge. I do lots of sponsorship communication with the large donors who donate $10,000 or more and you need to know how to ask for something, how to be polite and professional and how to accept rejection. I also learned that documentation is important for improvement. We now have a PrISUm University where everything related to PrISUm is documented. We did not have anything documented before," said Goode.
His interest in solar cars will not stop upon graduation from Iowa State. Goode is interested in starting his own company that builds cars.
"I want to build a company that can compete with Tesla," he said.
At solar car competitions, Goode has shared and tested his ideas with other solar car teams from across the nation. As passion and ideas burn within each solar car team member, there is a drive to get started on building their ideas. He is hopeful to get involved in the ISU Startup Factory after graduation.
Matt Goode is just one of the many student leaders found in PrISUm, Materials Science and Engineering and Iowa State University.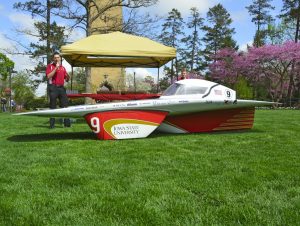 Goode said, "There are a lot of Materials Engineering students in PrISUm and many of them are very prominent upcoming leaders. PrISUm is a great way to gain leadership experience, and it is also a perk when they join Materials Engineering too."
As time and progress on Penumbra continues, stay tuned for updates on PrISUm as the world's first solar utility vehicle gets built on the Iowa State University campus.