By Jenna Hrdlicka, jenna.hrdlicka@iowastatedaily.com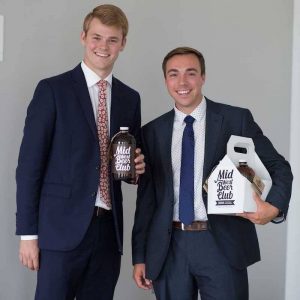 After a long and frustrating day, all Nick Herrig wanted to do was go home and have a cold beer. The realization that he had none in his fridge could have led to despair, but instead sparked the creation of the Midwest Beer Club with his friend and business partner, Mason Cook.
Cook, senior in management, and Herrig, senior in industrial engineering, are in the process of establishing a business that will allow people to order personalized boxes of beer to be delivered to their door.
The business, similar to a beer-of-the-month club, is unique in the fact that it uses an algorithm the duo created that takes customers' personal preferences and matches them to craft beer on hand from partnerships with local breweries.
"[You receive] a unique box of craft beer catered to your preferences," Cook said.
Cook and Herrig began planning the business about a year ago and took advantage of entrepreneurship resources at Iowa State throughout the process to assist them in starting the business and navigating tricky Iowa law.
They worked with the ISU Pappajohn Center for Entrepreneurship, became involved with clubs on campus and utilized the knowledge and guidance of various ISU professors to build their business. Cook recommends other students interested in pursuing entrepreneurship do the same.