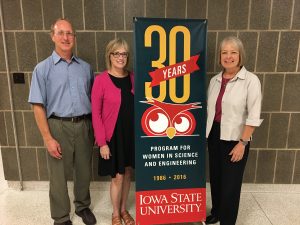 Iowa State University mechanical engineering professor Judy Vance will be honored by the Program for Women in Science and Engineering (WiSE) at a luncheon later this month.
WiSE is recognizing Vance because of her advocacy for women in STEM both in Iowa and nationally. Vance holds her BS, MS, and PhD in mechanical engineering all from ISU. She currently serves as the Joseph C. and Elizabeth A. Anderlik Professor of Engineering.
"I'm very honored by this recognition and I'm grateful that ISU has such an excellent WiSE program to support our current students in STEM and to encourage younger students across the state to consider pursuing STEM careers," Vance said.
In commemoration with its 30th anniversary, WiSE will recognize different "champions" each month during the academic year for their efforts in engaging K-12 students and undergraduate women at ISU.
WiSE will host its 30th Anniversary Dinner on Saturday, Dec. 3rd at the Alumni Center's Reiman Ballroom. The event is open to the public. Registration is required.