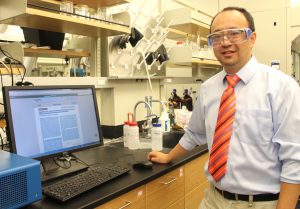 Researchers in Iowa State University's Department of Chemical and Biological Engineering (CBE) are harnessing the potential of photosynthesis – one of the fundamental natural process that exists on Earth – with an eye on someday using photosynthesis to help humans live on Mars.
Richard Seagrave Associate Professor Dr. Wenzhen Li is leading a study to develop new electrochemical cells from biomass that can conduct solar-assisted photo electrolysis of biorenewable feedstock.
Li's work begins with traditional electrochemical processes in feedstocks (raw materials used for processing or manufacturing), which produces hydrogen fuel and oxygen, but instead uses a solar-assisted technique (photoelectrolysis) that can reduce external electrical energy input and co-produce valuable and efficient chemicals instead of oxygen and hydrogen – a clean fuel, which holds promise as a replacement for gasoline in motor vehicles.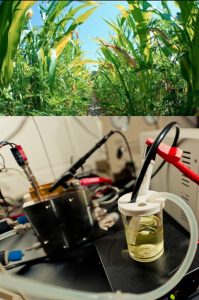 This is done through using a dual layer anode. "Our unique dual-layer anode is very efficient because it has integrated a semiconductor to gather photons from sunlight and an efficient electrocatalyst to facilitate needed reactions," Li explained. "We have found that if we combine things the right way, we can greatly increase the efficiency in producing chemicals from biorenewables that we want – desirable chemicals that deliver a 95%+ product yield." He is working with Dr. Matthew Panthani, a solar cell researcher in CBE, to explore novel photoanode materials. Success of this innovative project will advance the fundamental understanding of photoelectrolysis mechanisms, and create a foundation to develop and transfer new technology toward combining renewable sunlight, electricity and carbon sources for co-production of chemicals and fuels – and will have practical applications in industry.
Li recently received Iowa State's Bailey Research Career Development Award to support developing photoelectrolysis cells for uses here on Earth.
But Li is thinking of both applications close to home, and far, far away, perhaps on the surface of Mars. The space agency NASA plans to send people to study, work and live on the "red planet" for extended periods in the future. "NASA's long-term vision is deep space exploration involving humans, on places like Mars," said Li. "Ice has been found underground there, and carbon dioxide accounts for 95% of Mars' atmosphere. So the challenge is to find ways to convert those resources for use in various ways. Our vision is to develop novel technologies for waste mass reclamation, resource utilization and manufacturing needed to enable affordable, sustainable and long-duration human space missions – things such as food, nutrients, polymers and fuels."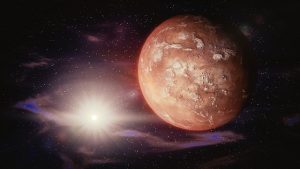 This "artificial photosynthesis" process that could be applied to development on Mars can also be performed in a photoelectrolysis cell, and this aspect of the research has a strong future. The device can convert CO2 into biomass, foods, fuels and polymers with a favorable order of magnitude efficiency compared to natural photosynthesis if it is appropriately integrated with synthetic biology technology.
Li hopes to collaborate with a number of researchers across campus — Zengyi Shao of Iowa State CBE, Dr. Robert Brown, who holds a courtesy appointment in CBE, and three other ISU professors: Dr. Meng Lu of the Department of Electrical and Computer Engineering; Dr. Xianglan Bai of the Department of Mechanical Engineering; and Dr. Zhiyou Wen of the Department of Food Science and Nutrition.
Li said he and the team can expand into this rapidly developing area of science and engineering. "Sunlight is the only renewable, carbon-neutral energy source of a sufficient scale to replace fossil fuel sources in the future and quickly meet the growing global energy demand, and biomass (organic matter used as fuel) is the only renewable carbon source on the earth to provide daily-use chemicals and materials," said Li. "So, it's very important to integrate solar energy and renewable electricity with biomass conversion. Photoelectrolysis research enhances the efficiency of producing beneficial, renewable materials."