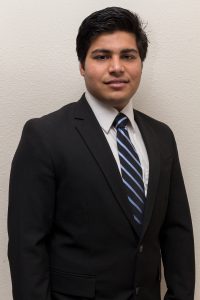 Mohammad Rashid Mohammad Shoaib, a recent graduate in aerospace engineering, continues to utilize his studies to understand additive manufacturing through nondestructive evaluation (NDE).
Shoaib first became fascinated with many aspects of additive manufacturing while he was on his internship in Malaysia. He started taking courses for the NDE minor offered to undergraduate students at Iowa State. His NDE professor, Nicola Bowler, encouraged him to explore additive manufacturing further and referred him to the director of the Center for Nondestructive Evaluation, Leonard Bond.
Since then, Shoaib has been working with Bond on a project to understand how porosity, or bubbles of gas, are formed in additively manufactured components and its effects on the mechanical properties of a material. "Porosity is a serious problem in additive manufacturing as it is hard to detect during the manufacturing phase and it compromises the structural integrity of the components causing failure, resulting in lost time, resources and money." Shoaib explains.
Bond gave Shoaib, the semester to work on the independent study project, and he was pleased with the results. He advised Shoaib, to apply for the Robert B. Oliver scholarship, offered by The American Society of Nondestructive Testing (ASNT), which recognizes excellence in undergraduate research.
"I didn't really expect to receive a response from ASNT and was surprised when Dr. Bond told me that I should check my mail for a letter," says Shoaib, Unbeknownst to Shoaib, a letter awarding him the scholarship had been sitting in his old mailbox for the past three weeks. "I had moved during the time they sent the letter and I did not have a forwarding address, so I never knew," explains Shoaib.
Shoaib, says he learned a lot during his first experience with research, including new methods of finding and understanding information, while developing his own work. He believes his ability to quickly and effectively find and use these research techniques is a huge advantage to him moving forward.