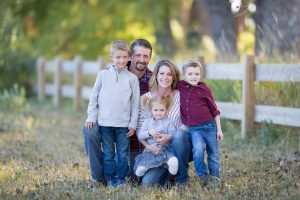 Dan Rau, a mechanical engineering alumnus, is making strides in geothermal energy. After he graduated in 1998, Rau began working as a mechanical engineer for a consulting firm that designed heating, venting and cooling systems for commercial use. That's when he was introduced to geothermal technology and began to invest his time into researching the technology and the installation of geothermal systems. Now, he has his own geothermal drilling business.
When his wife, Kari (who earned her bachelor's in exercise and sport science from Iowa State in 2000), received a job in Colorado and the couple relocated, Rau took the opportunity to begin his adventure into geothermal drilling. He shadowed another geothermal driller, hoping to gain as much information as possible. He says he learned many aspects about the business, such as what does and what doesn't work, a deeper understanding of hydraulics and how to drill more efficiently. He then utilized what he learned at Iowa State to improve and build more efficient, safe and streamlined equipment so installations require less equipment and manpower.
Rau says the education he received at Iowa State was a big help. The knowledge from his classes like machine design helped Rau design his drill as well as all the parts that go with it. Even more, classes like thermodynamics and fluid transfer helped Rau create more efficient and safe drilling. Adding his experience to the mix has made Rau a one-of-a-kind driller who can do it all, a rare occurrence in the geothermal industry.
Because much of geothermal drilling is virtually invisible when compared to solar or wind powered operations, Rau says a big portion of his job is about educating clients on geothermal energy. His research in the field and being able to apply his extensive knowledge to his business helps him inform his clients about all aspects of his operations.
While he's enjoying success with his business, he says starting from scratch presented many challenges. He built the company right before the recession, and that brought many worries as some of his biggest competitors began to go out of business. Rau powered through, and his business was able to grow each year.
Rau plans to continue providing Colorado and its resident's quality geothermal systems. His business is family-­owned ran by Rau, his wife Kari, his father Doug, his brother Nick, and two other employees.