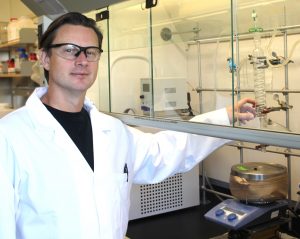 "There is a change in science teaching standards going on. It is a shift in approach from 'teaching' science to 'doing' science," says Jeremy Morrow, a science teacher at Hoover High School in Des Moines. As a participant in this this year's Research Experience for Teachers (RET) program, that philosophy will impact how he educates his students when he returns to the classroom this fall.
Morrow, who teaches chemistry, AP chemistry and biology, is one of three high school educators taking part in the chemical and biological engineering portion of this summer's RET program, and others are doing the same in other Iowa State University engineering departments.
Through conducting research projects under the direction of university researchers, collaboration with cohorts and development of materials that can be directly employed in teaching their own students, the RET participants gain a new respect and enthusiasm for their roles as educators. "It gives an authenticity to why we learn science and teach science. The countries that innovate will continue to be world leaders," Morrow said.
Morrow has spent the summer working with CBE professor Jean-Philippe Tessonnier and graduate student Radhika Rao. His research project has dealt with using temperature treatments on carbon catalysts in hydrogenation reactions — using carbon nanotubes that are about the size of a human hair. The research impacts hydrogenation processes used in industry.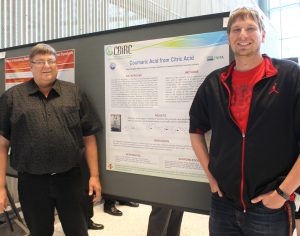 Darwin Daugaard is in his 37th year of teaching and conducts high school science classes in the Dell Rapids, S.D. public school system. He's been working with CBE professor Eric Cochran in a research project involving citric acid as a cost-effective substitute for use in creating biorenewable chemicals that have many applications. Daugaard has taken part in RET programs at other schools – but perhaps it was inevitable that he would end up in Iowa State's program. A quick tally reveals that he has as many as nine family members who have attended Iowa State, including his son, Tannon Daugaard, who is a graduate student at ISU, pursuing a Ph.D. in mechanical engineering. Daugaard had his son as a high school student in his classes. "This year I got to spend Father's Day with him for the first time in nine years," said dad, pointing out a benefit of spending the summer in Ames.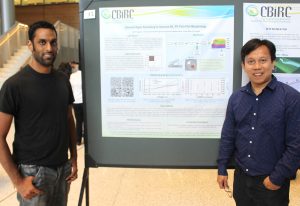 Regarding the benefits of the RET program, Daugaard said he appreciates the tie-in with what is put forward by the Science, Technology, Engineering and Math (STEM) program, which elevates the role of science-related education of young people in America. "The program here really connects with new standards and units that are STEM-based and lets you get a good leg up to improve the quality of education for not only the students, but the teachers who are passing along this knowledge and enthusiasm."
Back for the second consecutive year with Iowa State's RET program is Gil Baguio, who teaches science classes to incarcerated youth in the Baltimore, MD City Detention Center. Baguio is again working with CBE's Dr. Matthew Panthani. "The collaboration in the professional development meetings is very helpful to us and it builds a good bond between us. This experience has helped my global understanding of science and will help me in the many different curriculums I have to employ with my many students in Baltimore. I am very privileged," said Baguio about the program in 2015. His research this summer has involved a substance that is a nontoxic alternative to lead-based materials used in solar cells.