Iowa State University's (ISU) Kristen Cetin is pairing with international researchers to share the latest in residential smart building devices.
The assistant professor in the Department of Civil, Construction and Environmental Engineering (CCEE) just returned to ISU from chairing two seminars at the American Society of Heating, Refrigeration, and Air Conditioning Engineers' (ASHRAE) 2016 Annual Conference.
"Attending these conferences in general is important because, when you participate in technical committees, you meet other people that are doing similar things, you can bounce ideas off each other, you can propose research," Cetin said.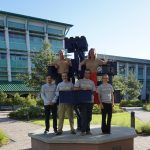 The 2016 conference was held June 25-29. Cetin chaired both "Residential Building Smart Devices and Data: Improving Energy Use Insights and Performance Evaluation," and "The Impact of Net Zero Energy Buildings On the Electric Grid." Cetin's seminars were in two of the eight conference tracks (broad topic areas into which the conference was divided). Check out a full schedule of the conference.
In her first seminar, Cetin and fellow researchers explored ways residents can utilize emerging smart energy technology, including thermostats and temperature studies, in an easy way. Cetin explained the practical application of her second seminar concerning net zero energy.
"You can figure out ways to reduce how much energy you are using by being able to predict what the performance is going to be," she said.
At ISU, Cetin teaches classes on evaluating the energy performance of buildings and communities. Cetin turned around from a nearly week-long teaching workshop in Florida to chair the seminars at the ASHRAE 2016 Annual Conference.
Watch CCEE's Facebook, Twitter, and LinkedIn for the latest in research and engineering education. Catch stories like this one on our website, ccee.iastate.edu.