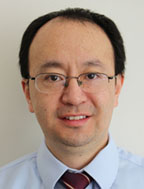 Wenzhen Li, Richard Seagrave Associate Professor in the Department of Chemical and Biological Engineering, will receive Bailey Research Career Development Award funding.
His work in solar-assisted biomass processing, "Solar Photo Electrolysis of Biorenewable Feedstock to Higher-Valued Chemicals over Non-Precious Dual-Layer Catalysts," will be supported. The award is presented annually to senior Iowa State faculty who pursue high-risk, innovative research that represents a new thread of inquiry for the investigator.
Li said, "This is a very important award to support our new research directions towards frontier energy technologies that can directly integrate solar energy, renewable electricity and biomass/biorenewables conversion. It will also help to develop novel photoelectromicrobial cells for efficient artificial photosynthesis in the future, in collaboration with our excellent CBE faculty whose research efforts are in solar energy harvesting and synthetic biology."
An official announcement from the ISU Office of the Vice President for Research is available here.