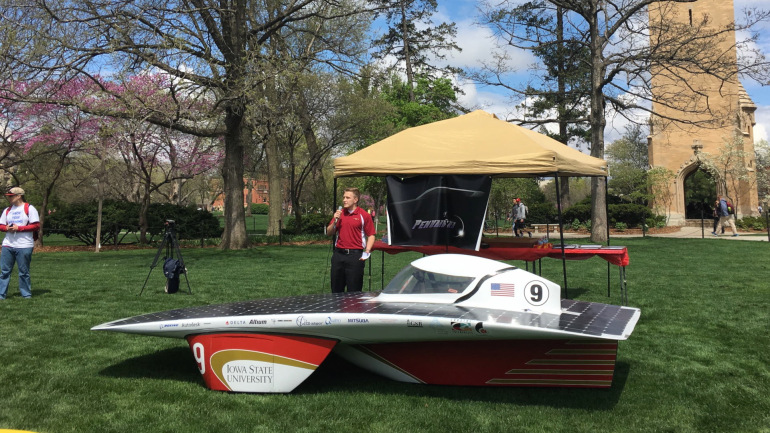 Team PrISUm, Iowa State's solar car team, unveiled two advances on April 21. The first was its 2016 version of the solar car which includes a new, more energy-efficient engine. The second advance was plans for a new vehicle in 2017 which will be a four-person, street-legal solar vehicle.
The anticipated costs for the 2017 vehicle are $700,00, more than doubling the $300,000 required to build the 2016 vehicle. The 2017 car, named "Penumbra" will visit all 99 of the counties in Iowa in outreach efforts and will also be transported to Australia for a competition next year.
To read the full story by Roger Riley for WHOtv, click here.
The 2016 car, named "Phaeton 2" after last year's "Phaeton" (which won first place at the Formula Sun Grand Prix in 2015), will be competing at the American Solar Challenge. This race begins in Brecksville, Ohio on July 30 and finishes on August 6 in Hot Springs, South Dakota.
Team PrISUm's advisor and professor in mechanical engineering, Emmanuel Agba, says the drive from Ohio to South Dakota will require the ability to handle various weather conditions. "It was a challenge to build a car suitable for all environments," he says.
The race that Penumbra will be taking on in Australia will be a week long and the car will be equipped to hold all of their supplies and charge their phones. Penumbra will be unveiled at an event next year.
For the full story on the event by Andria Homewood for the Iowa State Daily, click here.