By Jim Heise, senior lecturer for the Department of Mechanical Engineering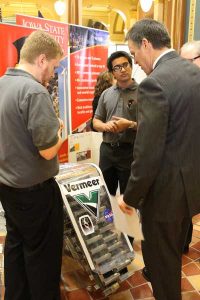 Every year, ISU spends a day at our state capitol giving legislators, state employees and visitors the opportunity to see all the great things we do at Iowa State University. I was happy bring along some of my best and most enthusiastic students from the ISU Cyclone Space Mining Club with their project – a prototype for a space mining rover that could potentially help astronauts survive on the moon or Mars or some other far-off planetoid.
In the capitol rotunda, we shared with many the things the students do and the impact their work has on our state, nation and the world. We have seen many incredible things in the past few years, which includes the incredible growth in enrollment in engineering at Iowa State! The technologies impacted by engineering have grown exponentially and students are seeing that and want to be a part of it.
I had the opportunity to share with a state legislator the value of a degree in engineering from Iowa State. It was fun to explain the many changes that are happening in education and professional practice and how students are seeing the advantages of taking part in the adventure that can be found in the STEM (science, technology, engineering and mathematics). Iowa State is deeply immersed in STEM, and I got to share with my new found friend that at Iowa State nearly 1 in 4 students are now engineering majors. All the STEM fields have bright futures with many challenges and good pay.
Students from the Cyclone Space Mining Club also made an impact that day.
The club represents one of hundreds of student organizations on campus. These clubs allow our ever-growing university to maintain a small-campus feel through the many friendships our students can find in these small communities on campus. Better still, many of these clubs allow the students to apply what they learn in the classroom to projects and activities sponsored by these groups. It is through this "Science through Practice," which is part of our charter as a land-grant university, that makes Iowa State University such a unique place.  And, it's one of many reasons that students and their parents see us as a great place to get an education, and an adventure to boot!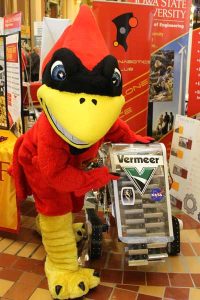 Cyclone Space Mining is focused on designing and building a prototype space rover for collecting regolith on the moon or Mars. The club competes every May at the Kennedy Space Center Visitor's Complex in Florida and has the chance to interact directly with NASA engineers and astronauts. The technology these students learn is incredible and serves to help them to land incredible jobs after graduation.
But that's not all this club does. The students in this club, which includes not only engineer majors but education, communication, psychology, business and more, go out to our public schools to promote STEM to the children there. They also visit other events such as the state FIRST LEGO League championships, the Science Center of Iowa, and more. The weekend before the ISU Day at the Capitol, some members of the club took the rover to Kent State University to participate in a mock space mining competition with three other universities (they took second). At the same time, other club members were at the Science Center of Iowa for the Girls in Science Fair. There, they were helping new potential engineers, scientists (and astronauts dare I say) learn how parachutes work and why they are so important in space flight. In addition to this, after the event at the capitol, the club is headed to Marshalltown, Iowa, to give an educational program for a science education event.
Is engineering contagious? You bet it is! What other profession in the world lets you create at the rate engineering does and have such a benefit to society. Whether it be collecting rocks on the moon or helping a developing nation see economic expansion through better ways to live and work. It could also be solving problems related to climate by developing clean energies or developing more efficient appliances that use less of it.
The great thing about engineering at Iowa State is that we have our feet planted squarely on the ground as we reach for the stars. How do we do that? Ask Clayton Anderson, he's an engineer, an astronaut, an ISU alum and all around nice guy. He'll be giving a talk to our engineering students and anyone who wants to catch the "engineering bug" on February 20 to kick off E-week. Don't miss it!