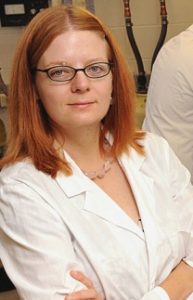 Department of Chemical and Biological Engineering professor Dr. Laura Jarboe has received the 2015 Leadership in Outreach & Mentoring Award from Iowa NSF EPSCoR (National Science Foundation Experimental Program to Stimulate Competitive Research).
A panel of judges selected Jarboe for the honor, stating they were impressed with her range of activities and achievement in the areas of outreach and broadening participation. Iowa NSF EPSCoR uses the Leadership in Outreach and Mentoring Award to recognize faculty and staff who are exemplary in broadening participation in STEM (Science, Technology, Engineering and Math education) through outreach and/or development of students as teachers, scholars and professionals.
Iowa EPSCoR is aimed at building research capacity and increasing competitiveness for the State of Iowa through investments in infrastructure and human capital. EPSCoR provides support for key research areas at Iowa's Regents Institutions, while establishing partnerships with the state's community colleges, private colleges, school districts, government agencies and industries. The ultimate goal is to stimulate lasting research infrastructure improvements for the State of Iowa.
CBE congratulates Dr. Jarboe for this achievement.