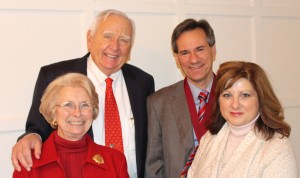 Dr. Brent Shanks of the Department of Chemical and Biological Engineering has been named the inaugural Mike & Jean Steffenson Chair. Shanks, who is also Anson Marston Distinguished Professor and Director of the NSF Engineering Research Center for Biorenewable Chemicals (CBiRC), was joined in a medallion ceremony by donors Mike and Jean Steffenson, Iowa State University Senior Vice President and Provost Jonathan A. Wickert, Dean of the College of Engineering Sarah Rajala, representatives of the department, family members and other guests.
Shanks had previously been named Mike and Jean Steffenson Professor; and through further generosity from the Steffensons, that position has now been elevated to chair. "We were honored to have been able to establish the professorship for Brent," said Mike Steffenson, but in citing Shanks' numerous honors and accomplishments since that time, said, "We decided he had outgrown that position!"
"It is appropriate to pause and reflect on Dr. Shanks' contributions to the department and the university," remarked Provost Wickert. "He is an esteemed researcher with an international reputation in biorenewables," he said, pointing to Shanks' leadership of CBiRC, the research contributions it has made, the jobs it has created, and the opportunities it has opened for Iowa State. "And as an ISU graduate, he truly understands the values of this institution." Wickert went on to say, "The blend of professional experience he brought to the fore in leading CBiRC has been a perfect fit for management and teaching. The impact he has made through CBiRC is transformative – and it shows our university's faculty members that they can aim high." Prior to being named the director of CBiRC and coming to Iowa State, Shanks worked for the Shell Chemical Company.
Brent's wife, Dr. Jacqueline Shanks, is the Manley Hoppe Professor in the Department of Chemical and Biological Engineering, a position named for Jean Steffenson's father. She and Brent met while undergraduates in the department in the early 1980s. "Our decision to return to Iowa State (after working in the Houston, TX area) had a lot to do with this department – how seriously it took the responsibility of teaching its students and giving them what they need to succeed in the world of chemical engineering and in clean energy," Brent said. "The Steffensons' generosity really resonates with me," he continued, "because their spirit is what we believe shows the truly caring image of Iowa State." Shanks pointed out that the support that comes with the Steffenson chair position will allow him to further conduct research, and in turn will also allow him to work with students.
Mike Steffenson graduated with a B.S. from Iowa State in chemical engineering in 1959; Jean received a B.S. in zoology from ISU in 1960. Mike joined Par Instrument Co. in Moline, IL in 1962 and has served as its chairman, president and CEO since 1974, a position that had been held by Jean's father, Manley Hoppe, prior to that. Jean has served on the Iowa State University Research Park Board of Directors and Mike's on-campus involvement has included service on the Department of Chemical and Biological Engineering Advisory Council and the Iowa State University Research Foundation board. He has been recognized with awards that include the Alumni Association's Alumni Medal, the College of Engineering's PACE Award, the Marston Medal, and he was inducted into the Department of Chemical and Biological Engineering Hall of Fame in 2013.
Their support also extends directly to CBE students, through the Mike and Jean Steffenson Scholarship, the A. Douglas and Helen Steffenson Scholarship and the Lois and Manley Hoppe Scholarship. They were also instrumental in funding the Mike and Jean Steffenson Student Services Center located in Sweeney Hall. Mike and Jean are members of the Cyclone Club, the Order of the Knoll, and life members of the Iowa State University Alumni Association. They have also served as Iowa State University Foundation Governors.