Learn more about NSBE here.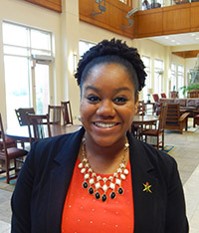 Born in New York City, Courtney Towles, felt right at home with Iowa State University. Towles discovered her love for engineering at a young age and knew that being an engineer was the right path for her.
When Courtney Towles came to Iowa State, she was pleased with the quality and variety of engineering programs the university offered. She quickly discovered a desire to work with the environmental aspects of engineering, leading her to pursue a degree in civil engineering with an environmental emphasis.
As Towles got settled on campus, she says there were times when she really missed her family and she had to adjust to the demanding coursework. "Thankfully, resources like tutoring and supplemental instruction are available, and I made some great connections to friends in organizations like NSBE," she adds.
Towles first learned about NSBE during Club Fest her freshman year. Once she attended the first meeting and saw the camaraderie and family setting between members, Towles knew the organization was the place for her.
Her leadership in NSBE started when she became public relations chair her first year in the organization. The following year she became a senator, representing the chapter at the regional level and her junior year she was encouraged by her fellow members to become the chapter president.
Now, Towles is the Missouri Zone vice chair. This position is on the regional board and oversees all NSBE chapters in the states of Missouri, Iowa, and North and South Dakota. If a chapter under her region needs anything, such as funding, travel, or help with academic programs, Towles acts as a liaison between the chapters and the regional board.
After she graduates, Towles plans to continue to be involved with NSBE in a professional chapter. "I don't think I'll jump into leadership positions right away, though," she explains. "I want to get settled with my career, and I'd like to work on a graduate degree, possibly a Ph.D."
Outside of NSBE and class, Towles is a community assistant. She has also been involved in other organizations and clubs, such as Black Student Alliance, Women of Color, Spanish Club and International Student Council.
Towles held an internship through the City of Ankeny, where she was assigned to the public works department and worked with fellow engineers. In her position, she supervised construction and monitored runoff that entered Ankeny's storm drain to defend against water pollution.