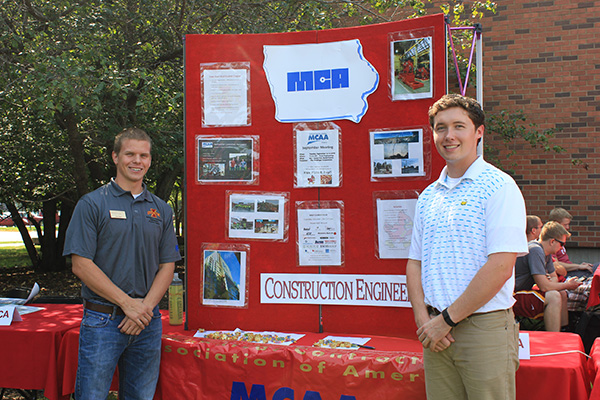 The Mechanical Contractors Association (MCA) Iowa State University chapter recently received special national funding for student chapter scholarships and activities.
The Mechanical Contractors Association of America (MCAA) awarded Iowa State, also known as the Mechanical Specialty Contracting Student Chapter, the 2015 Chapter of Excellence Grant, which allocates $5,000 for student scholarships and $2,500 for chapter operations.
The grant rewards MCAA student chapters for their extraordinary performance and accomplishments, which chapters describe as a special project or program, achieving a goal, or overcoming a challenge. Iowa State's accomplishments include a 100 percent job placement rate — all placed within the mechanical construction industry — for graduating MCA students, attracting 48 golfers to its fall golf outing, and strong networking with Mechanical Contractors Association of Iowa. "Continual education, sparking interest, and creating excitement toward our industry is one of the goals of our chapter," said Joe Kern, construction engineering senior and vice president of the MCA Iowa State chapter.
Iowa State also received the national grant in 2012. Learn more about the Mechanical Contractors Association Iowa State chapter at https://stuorgs.engineering.iastate.edu/mca. Brad Perkins, senior lecturer of civil, construction and environmental engineering, advises the MCA Iowa State chapter.