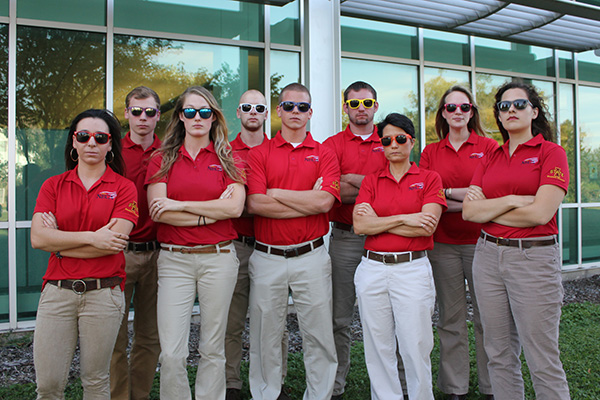 The National Electrical Contractors Association (NECA) Iowa State University chapter recently won the 2015 ELECTRI International Green Energy Challenge – a repeat accolade as Iowa State defended its 2014 national title. They also won NECA Student Chapter of the Year. Both honors were recognized at the NECA Convention held Oct. 2-6 in San Francisco.
ELECTRI International and NECA challenged students to develop a back-up power system and resiliency plan for a facility with demonstrated critical power needs. Iowa State civil engineering and construction engineering students, who call themselves Team Cyclone Energy, chose the university's Administrative Services Building, where they developed a 50-page proposal to improve the building's energy consumption, light levels, and energy costs. Students proposed a solar-energy microgrid and lighting retrofit as well as offered three alternate scenarios: 1) improve indoor air quality, improve thermal comfort, and reduce light intensity for building occupants; 2) increase energy production capacity of solar array; or 3) a combination of increasing comfort for building occupants and increasing solar energy production capacity.
Iowa State's winning report and oral presentation came with a $4,000 cash prize, $2,000 in travel support to the NECA Convention, and free NECA Convention registration.
This year ten exceptional students devoted hundreds of combined hours of practice and talent to excel in competition. Team members include spring 2015 construction engineering graduates Lucas Baxter, Joe Hahn and Bryan Marroquin; construction engineering seniors Caleb Bonderer, Dylan Busby, Maggie Holt, Joe Kern and Rick Smith; construction engineering junior Regan Smiley; and civil engineering senior Britta Sortland.
Iowa State NECA faculty advisors are Beth Hartmann and Jenny Baker, both senior lecturers in civil, construction and environmental engineering. "This competition exposes students to a real-life scenario," Hartmann said. "They work through how to perform technical analyses, develop a conceptual estimate and schedule, identify an appropriate financing plan, and develop a clear and professional proposal."
Preparation for the 2015 competition began in December 2014, when Team Cyclone Energy was assembled. ELECTRI International issued a Request for Proposal to student teams in January 2015. Roles were then assigned and work commenced. In addition to completing all the technical proposal work, Iowa State NECA students developed an outreach event March 9, 2015, with Ames' Sawyer Elementary School. There they led a paper windmill activity and taught children about clean, sustainable energies. They also organized and sponsored an energy-saving competition at the Iowa State Legacy Tower.
The written proposal was submitted to NECA and ELECTRI International April 20, 2015. Three months later, Iowa State learned they achieved top score for written proposal, which placed them in contention for Green Energy Challenge overall winner. Iowa State was invited to compete in an oral presentation, to be held at the 2015 NECA Convention, with fellow finalists Illinois Institute of Technology and Pennsylvania State University.
Sortland talks about the kind of preparation she and team members did. "Each of us recited lines before bed, in the shower, between classes, and other free moments we could find during the day," she said. "We also worked on facial expressions, voice inflection and delivery, because we wanted to tell a story." The group also practiced countless times together. Sortland's focused efforts culminated in earning the Green Energy Challenge Best Presenter Award, which came with a $500 cash prize.
Iowa State also received the NECA Student Chapter of the Year Award, which came with a $1000 cash prize. This honor recognizes and rewards those students, faculty and NECA staff working hard year-round to run successful student chapters. Thirty-three chapters from the U.S. and Canada were eligible for this award.
At the NECA Convention, Hartmann presented to the ELECTRI International Council about how the Green Energy Challenge impacts students. The national electrical contracting industry has taken notice, considering Iowa State has been a Green Energy Challenge top-3 finalist each year since 2012. "The guidance of faculty, staff and industry partners, mixed with the admirable dedication our students have to this project, is what continues to make this team successful," Hartmann said. "They become part of something bigger than they could have imagined."
To apply for the 2016 Iowa State Green Energy Challenge team, contact Hartmann at bethlin@iastate.edu.