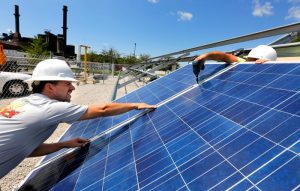 The company that helped Iowa State install a couple of 8 X 60-foot solar panel arrays on the east side of campus has ties to the university's Department of Industrial and Manufacturing Systems Engineering.
CB Solar, the state's biggest solar contractor, designs and installs turnkey solar power systems for residential, commercial and agricultural uses.
Two industrial engineering graduates lead the company. Tyler Bacon, the company's president, graduated with a bachelor's degree in 2008, and Ben Wollner, head engineer, earned his bachelor's in 2009 and master's in 2011.
Wollner says both he and Bacon had experience with renewable energy before the company was formed. "There's a need, a market out there for solar power, and we wanted to lead that," he added.
With their technical engineering background, Wollner says the team thoroughly analyzes each project to determine what solutions will work best. He adds that the company is especially skilled at assessing emerging technologies. "There's a lot of research and ideas going around about what will make solar power more affordable and available. We take the time to research these ideas and use an engineering perspective to decide which innovations are promising," he explained.
The company's willingness to try out different technologies has served it well. CB Solar has projects across the state, and it continues to grow with hopes to branch out across the Midwest.
At Iowa State, the solar panels CB Solar installed soon will be feeding energy into the university's electrical system. The technology will provide about 30,000 kilowatt hours annually. Standard houses in Iowa use about 10,000 kilowatt hours per year.
"It's great to see alternative, renewable sources being implemented on campus," Wollner adds. "We were excited to come full circle with our knowledge and experiences to make a difference at Iowa State."