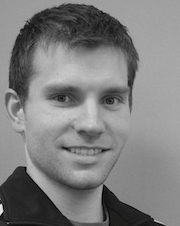 Support during graduate school opened path to career in teaching
A big part of being an undergraduate student involves new experiences that help you decide where you'll end up next.
For Tim Cullinan, a new lecturer for Iowa State's materials science and engineering department, tutoring and serving as a teaching assistant got him thinking about the possibility of a career in teaching.
The Ottumwa, Iowa, native attended Iowa State and received his bachelor's degree in 2010 and doctorate in 2015, both in materials science and engineering. Cullinan says he was always drawn to engineering, appreciating the problem solving aspect of the discipline. "I remember meeting real engineers and seeing them work on complicated, important projects. I've always enjoyed science and figuring things out, so engineering was a good fit for me."
Once he decided teaching was also a part of his future, he stayed at Iowa State to earn his PhD so he could teach at the college/university level. During that time, Cullinan pursued additional experiences to broaden his teaching perspective, including teaching a section of Engr 160 and participating in the Preparing Future Faculty program.
"I'm thankful for the support I received from Dr. Ralph Napolitano," he said. "I never imagined that I would end up staying at Iowa State, let alone my home department, but when the lecturing position was posted I knew  things were falling into place."
He adds that teaching at the college level is especially appealing because of how important his own undergraduate years were. "It's not always easy, and I want to help people who are in situations similar to what I was experiencing at that time."
This fall, he's teaching Mat E 273, an introductory materials science and engineering course for non-majors, and Mat E 214, a materials characterization course.
Cullinan's teaching philosophy is to constantly reinforce the "big picture" to his students – a concise summary of the major units and ideas he wants students to remember forever. "As a teacher, I accept that students will forget the details of a class over time. To help, I construct the big picture throughout the semester to ensure a strong coupling between what I teach and what I assess. I think it's also important to motivate and challenge students without overwhelming them."
He's also looking forward to staying involved with the student clubs on campus in an advisory role and resuming some hobbies he had to put on hold while working on his graduate degree.