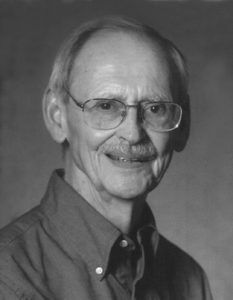 Professor Emeritus Richard Pletcher passed away September 12, 2015 at the age of 80.
Dr. Richard (Dick) Pletcher was born in 1935 in Elkhart, Indiana. He graduated from Purdue University with a B.S. degree in mechanical engineering in 1957. He married Carol Robbins on June 9, 1957 in Elkhart, and from there the couple left for Dick's active duty in the U.S. Navy in California. Dick served as Ensign and Ltjg for 3 years with amphibious forces in the Pacific. He was an engineering officer of a landing craft and an assistant gunnery officer on a landing ship dock from 1957 to 1960. He spent 2 years with United Aircraft Research Laboratories in Hartford, Connecticut from 1965 to 1967.
Dick returned to academia and attended Cornell University for graduate school, receiving M.S. and Ph.D. degrees in mechanical engineering. He joined the faculty of Department of Mechanical Engineering at Iowa State University in 1967 until his retirement in 2007, after 40 years. During his time at Iowa State, he also served as Director of the Computational Fluid Dynamics Center. He was a Fellow of the American Society of Mechanical Engineers and an Associate Fellow of the American Institute of Aeronautics and Astronautics.
His life's work contributed greatly to the ISU Department of Mechanical Engineering's strong reputation in education and research. Dick received the ASME Heat Transfer Memorial Award in Science in 2009. He was an associate editor of the Journal of Heat Transfer and served on the editorial advisory board of Numerical Heat Transfer. Dick conducted basic and applied topics in fluid dynamics and heat transfer. He served as principal investigator for numerous research grants from sponsors such as NSF, NASA, the Army Research Office, Allison Gas Turbines, John Deere, Department of Energy, Air Force Office of Scientific Research and served as a consultant to industry and government. He gave many invited lectures throughout the world. He authored or co-authored over 80 journal articles and several books, the most notable of which was Computational Fluid Mechanic and Heat Transfer, a textbook that survived three editions over a 30 year period. It was one of the first texts available in that emerging field made possible by the digital computer. He served as major or co-major professor for 33 doctoral students and 17 master's students.
Dick was an active member of Collegiate Presbyterian Church, Town and Country Kiwanis, and an avid fan of ISU women's basketball. Dick loved his family, Brittany dogs, hunting, fishing and computational fluid dynamics. He is survived by his wife of 58 years, Carol, three children, and six grandchildren.